We all, as a chaplaincy, have a role to play in safeguarding our church community. It is important, therefore, that we know what constitutes abusive behaviour, what our duty is if we suspect that abuse is taking place and who to speak to or contact about this.
We need to provide a safe and secure environment for all who meet together here.
Safeguarding covers various groups of people; children, young adults, and the vulnerable adults. It is worth remembering that at different times of our lives we can all be vulnerable to some extent. Hence it is our duty to care about one another.
The main groups of abuse are physical, sexual, emotional and neglect. However, there are less widely recognised groups, financial, organisational, spiritual, modern slavery, domestic violence and abuse, and self-neglect, so it covers a wide range of circumstances.
If you are involved regularly in chaplaincy organised activities with children, young people or vulnerable adults you may need to be subjected to a safeguarding check.
If at any time you become aware of any abuse taking place, no matter how slight your concern, then you must bring it to the attention of the Chaplaincy Safeguarding Officer here or the Chaplain or you can report it directly to the Diocesan Office on a confidential reporting line. You do not have to have proof before you report a safeguarding concern. It is not your duty to investigate the situation.
There is a notice on the temple door with the telephone numbers and e-mail addresses. A copy of this notice appears below on this page.
The new confidential telephone number to the Diocesan Office is also displayed, alongside " childline" and emergency numbers here in France. Here is a link for reporting a safeguarding concern to the Diocesan team.

On the door of the temple and by clicking here you will find the Safeguarding Policy Statement that our chaplaincy has adopted, stating our commitment to the way we treat people within our chaplaincy.
Safeguarding our fellow Christians is very important and we each need to take our responsibilities seriously and remember to do our duty should a problem arise.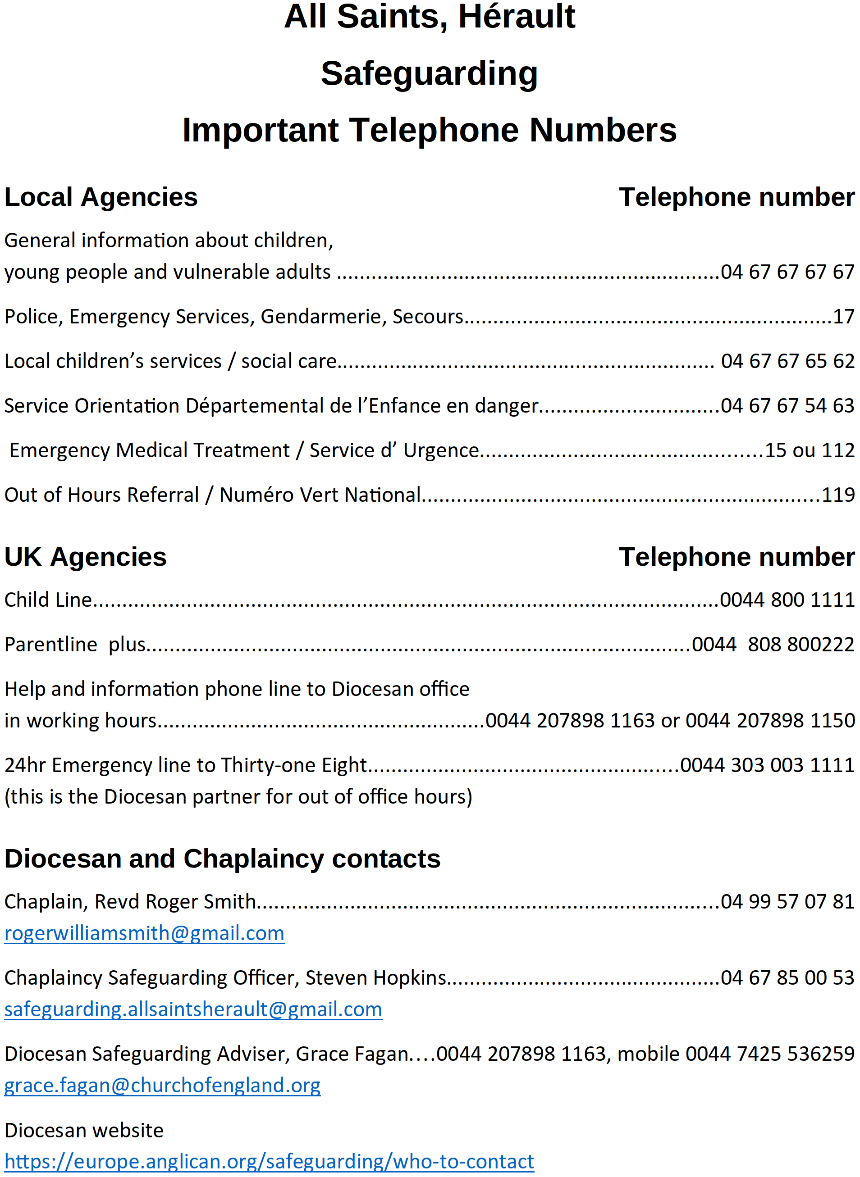 Reference document - Church of England Parish Safeguarding Handbook.