Anglican websites
(United Kingdom and within the Diocese in Europe)
Clicking on the image to the right will take you to The website for the Archdeaconry of France. The site contains information on the 85 Anglican congregations in France. Whether you are moving to France to live and work, looking for a place to worship when on holiday, or have lived here for some time and want to explore the Christian faith, this website will provide you with some of the answers.

Chaplaincy of Midi-Pyrénées and Aude. The Church of England in the Midi-Pyrénées and Aude covers an area from the Aveyron to the Aude and from the Lot into Tarn and Garonne, including the Tarn, Haute Garonne and Ariège. There has been an Anglican presence in this part of France since the early 1960's. In the last five decades this has developed into the present day Chaplaincy with seven worship centres and a large ministry team. For further information, please click on the picture.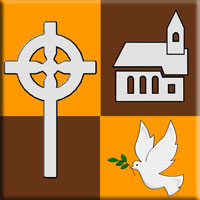 St Michael's, is currently the only Anglican Church in the Gard. The congregation was born in the summer of 2006 and was formally adopted into the Diocese of Europe in 2007. Their base is the Protestant Temple in Bagard but services are also held at other locations. For further information, please click on the picture.