It may be a good idea to print out this list, so that you can have it handy! I stick mine onto the fridge door.
May Prayer Diary 2018
Tuesday 1st May Philip and James, apostles
Pray that God, who gave strength and grace to Jesus' apostles Philip and James, may grant us the strength and grace to bear witness also.
Wednesday 2nd May
Pray for the families of those who have recently died and who are now trying to come to terms with their loss.
Thursday 3rd May
Pray for peace and understanding in the Middle East, especially between Israel and the Palestinian Authority
Friday 4th May
Pray for peace; peace in our own lives and peace in the world, especially in places like North Korea.
Saturday 5th May
Jesus, you walked with those on the margins. Help us to show love to those upon whom society preys or turns its back.
Sunday 6th May: Easter 6
Pray for our priest Roger that he may be sustained by the Holy Spirit in his mission here.
Monday 7th May
Pray for our church wardens Patricia and Nigel and thank God for the work they do.
Tuesday 8th May: Julian of Norwich (see article below)
Pray for all those who have written about their faith and helped us to understand more about God.
Wednesday 9th May
Pray for those going to the prayer group at St Joseph's Mont Rouge today.
Thursday 10th May: Ascension Day (see article below)
Pray that we do not stand gazing up into heaven, but carry on God's work here on earth
Friday 11th May
Pray that our lives may be an example to those around us and bring the light of Christ to those we meet today.
Saturday 12th May
Give thanks to God for all the people who sustain us in life: our families, your friends and relationships.
Sunday 13th May: Easter 7
Pray for our congregation meeting together today at St Pargoire. Pray that we may grow in love and share in the joy of God's creation.
Monday 14th May: St Matthias
Just as St Matthias was chosen as an apostle after the death of Judas, let us pray that we too may be responsive to the calling of God in our lives.
Tuesday 15th May
Pray that we may become the people God wants us to be.
Wednesday 16th May
Pray for those going to the Chaplaincy Council today. Let them meet in the light of God.
Thursday 17th May
Pray that children everywhere may eventually have access to free education.
Friday 18th May
Pray for all those who work to help the refugees in the Hérault and in other parts of the world.
Saturday 19th May: St Dunstan 988 AD
Pray for those who cannot see, physically and spiritually
Sunday 20th May: Pentecost
Pray that the Holy Spirit may renew us in our faith and give us strength to carry out God's will.
Monday 21st May: St Helena 330 AD
Pray for those in France who are finding life difficult, especially those who find it hard to make ends meet and for those who help them, like Restos du Coeur.
Tuesday 22nd May
Pray for all those in the Third World who depend on a good harvest. Pray for the areas where there is famine and great hardship where people have to move from their homes to find shelter and food.
Wednesday 23rd May
Pray for the protection of those who do not have easy access to healthcare and for the work of those organisations which seek to provide it.
Thursday 24th May: John and Charles Wesley
Pray for our joy in singing hymns in our worship of God.
Friday 25th May: Bede 735 AD
Give thanks for those who have written about their faith so that others may follow the path to belief in God. (See article below)
Saturday 26th May: St Augustine of Canterbury 604 AD and John Calvin 1564 AD (see article below)
Pray that we, like St Augustine, mat persevere in whatever we attempt to do and have confidence that we are doing God's will.
Sunday 27th May: Trinity Sunday
Pray that our lives may be devoted to the service of God and that we may deepen our understanding of the Trinity.
Monday 28th May: Lanfranc archbishop of Canterbury
Pray for our bishop Robert and bishop David and all those in authority in the Church.
Tuesday 29th May
Pray for all those who are lonely or depressed that they may understand God's love and know they are not alone.
Wednesday 30th May: St Joan of Arc and Josephine Butler
Pray for all those working towards bringing a more just and fair society, especially in France and Great Britain. (See article below)
Thursday 31st May: Corpus Christi
Pray for all those who work for CSF and for "Drop in Day". Pray for those who accompany those suffering with cancer.
Pray for the development of Anglican and Catholic relations here in the Hérault.
Pray for those who are being trafficked and used as slaves.
If you have any comments or would like to include a prayer in this prayer diary, please do contact Julie at juliejohnson34@gmail.com or on 0467 281025
Julian of Norwich May 8th
Julian of Norwich (1342-1416) was the first woman English Christian mystic. She lived at the time of plagues (just after the Black Death) and peasant uprisings. Perhaps her most famous work is "Revelations of Divine Love", the result of her visions of Jesus during a severe illness.
Unlike the theology of the time Julian wrote about God's love in terms of joy and compassion rather than as a result of law and duty. God is all loving and without wrath. This is when most people saw God punishing people because of their wickedness. According to Julian, God is both our mother and our father. However, this could be more a metaphor than literal. Her work still has an important impact on Christian thinkers today. "Revelations of Divine Love" and many of her other works are still in print.
"All shall be well, and all shall be well, and all manner of thing shall be well", which Julian claimed to be said to her by God himself, reflects her theology.
"If there is anywhere on earth a lover of God who is always kept safe. I know nothing of it, for it was not shown to me. But this was shown that in falling and rising again we are always kept in that same precious love."
Thoughts on Ascension Day May 10th 2018
I find it difficult to understand why, here in France, Ascension Day is a public holiday but Good Friday isn't. For many of us, although it is mentioned in the creed, Ascension Day doesn't seem to compare with Christmas, Easter and Pentecost. Perhaps it was easier to understand long ago, when people believed the earth was flat, Heaven somewhere up above in the sky and Hell distinctly below. I have been reminded of the stained glass window in King's College, Cambridge which shows Jesus' feet disappearing up into a cloud, in a sort of celestial elevator, taking him up high to be with the Father.
Why then should we celebrate? Jesus is gone. Yet again! When a loved one dies we are devastated at the separation. We feel we can no longer engage with them. As Christians we believe that the dead rest with God and are enfolded in God's love. But this comfort only goes so far …. After all Jesus wept for his friend Lazarus, even though he knew that Lazarus was not lost for ever.
On Ascension Day, the friends and disciples and family members of Jesus had to go through this separation a second time! First there was that gruesome, horrific death on a dark, grief stricken Friday and now, albeit it a much nicer way, Jesus is taken from them again. Surely this is too cruel! So, why were the disciples so full of joy when Jesus left them this second time? Was it what the angels said? What on earth made the disciples so happy!
That is the point though, isn't it? Jesus did not leave the disciples but stayed with them, in the love they had for each other. It wasn't goodbye, but a revelation of God's presence here on earth. The Risen Christ is not limited to one particular place, to Bethany (Luke 21, v24) but is here around us all, every day,everywhere on our journey. So Ascension Day is not just about celebrating the Heaven that awaits us but the heaven that already lives in every human being, even the ones we struggle with, to see the real presence of the Risen Christ in our lives.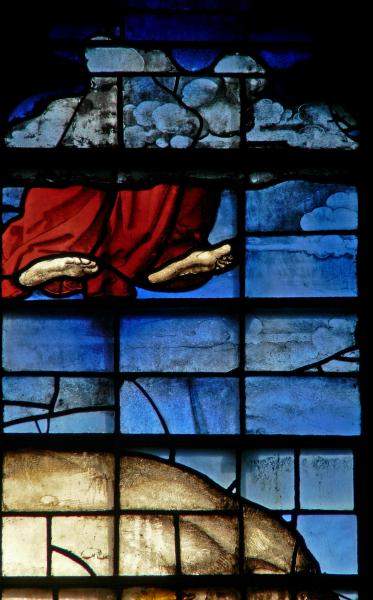 Part of the stained glass window in King's College. Cambridge.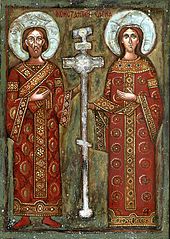 Orthodox Bulgarian icon of Saint Constantine and Saint Helena
St Helena May 21st
She was the wife of a Roman Emperor and also the mother of his successor, Constantine. It was Constantine who became the first Christian Emperor after his supposed vision just before the battle of Milvian Bridge when he ordered his soldiers to carry a standard with the words "In hoc signo vincis" or "In this sign you will win".
Constantine appointed his mother Helena as Augusta Imperatrix, and gave her unlimited access to the imperial treasury in order to locate the relics of Judeo-Christian tradition. In 326-28 Helena undertook a trip to the Holy Places in Palestine. According to Eusebius of Caesarea (260/265 – 339/340), who records the details of her pilgrimage to Palestine and other eastern provinces, she was responsible for the construction or beautification of two churches, the Church of the Nativity, Bethlehem, and another one on the Mount of Olives. Local legend attributes to Helena's orders the construction of a church in Egypt to identify the Burning Bush of Sinai.
Jerusalem was still being rebuilt following the destruction caused by Titus in AD 70. A temple had been built over the site of Jesus's tomb near Calvary. According to tradition, Helena ordered the temple torn down and also, according to the legend that arose at the end of the 4th century, chose a site to begin excavating. This led to the recovery of three different crosses. After a miracle, St Helena believed she had found a part of the "True Cross" and her son, Constantine, ordered the Church of the Holy Sepulchre to be built on this site.
Helena is considered a saint by the Orthodox churches, as well as by the Anglican Communion and Lutheran Churches, famed for her piety and for the buildings she had built in the Holy Land.
St Bede May 25th
St Bede - also known as the Venerable Bede - is widely regarded as the greatest of all the Anglo-Saxon scholars. He wrote around 40 books mainly dealing with theology and history.
Bede was probably born in Monkton, Durham. Nothing is known of his family background. At the age of seven he was entrusted to the care of the monks at the monastery of Wearmouth which had been founded in 674 AD and was one of several monasteries which were being founded at this time. Later Bede moved to the monastery at Jarrow, where there was a large library and he spent the rest of his life there. By the age of 19 he had become a deacon and was promoted to priest at 30.
He is best known for his writings and his scholarship covered a huge range of subjects, including commentaries on the Bible, observations of nature, music and poetry. His most famous work, which is a key source for the understanding of early British history and the arrival of Christianity, is 'Historia Ecclesiastica Gentis Anglorum' or 'The Ecclesiastical History of the English People' which was completed in 731 AD. It is the first work of history in which the AD system of dating is used. He was very concerned about the accuracy of his sources and only recorded what he thought was trustworthy evidence. It is a very important document for early Anglo-Saxon history. Much of his work was copied and used by other monasteries in England and Western Europe.
Bede died in his cell at the monastery in May 735 AD.
Some quotations from Bede's work …

"He alone loves the Creator perfectly who manifests a pure love for his neighbour."

"Unfurl the sails, and let God steer us where He will."

"I was no longer the centre of my life and therefore I could see God in everything."
Saint Augustine of Canterbury May 27th
In the year 596, some 40 monks set out from Rome to evangelize the Anglo-Saxons in England. Leading the group was Augustine, the prior of their monastery. Hardly had he and his men reached Gaul when they heard stories of the ferocity of the Anglo-Saxons and of the treacherous waters of the English Channel. Augustine returned to Rome and to Gregory the Great—the pope who had sent them—only to be assured by him that their fears were groundless.
Augustine set out again. This time the group crossed the English Channel and landed in the territory of Kent, ruled by King Ethelbert, a pagan married to a Christian, Bertha. Ethelbert received them kindly, set up a residence for them in Canterbury and within the year, on Pentecost Sunday 597, was himself baptized. After being consecrated a bishop in France, Augustine returned to Canterbury, where he founded his see. He constructed a church and monastery near where the present cathedral, begun in 1070, now stands. As the faith spread, additional sees were established at London and Rochester.
Work was sometimes slow and Augustine did not always meet with success. Attempts to reconcile the Anglo-Saxon Christians with the original Briton Christians—who had been driven into western England by Anglo-Saxon invaders—ended in dismal failure. Augustine failed to convince the Britons to give up certain Celtic customs at variance with Rome and to forget their bitterness, helping him evangelize their Anglo-Saxon conquerors.
Labouring patiently, Augustine wisely heeded the missionary principles—quite enlightened for the times—suggested by Pope Gregory: purify rather than destroy pagan temples and customs; let pagan rites and festivals be transformed into Christian feasts; retain local customs as far as possible. The limited success Augustine achieved in England before his death in 605, a short eight years after his arrival, would eventually bear fruit long after in the conversion of England. Augustine of Canterbury can truly be called the "Apostle of England."
Reflection
Augustine of Canterbury comes across today as a very human saint, one who could suffer like many of us from a failure of nerve. For example, his first venture to England ended in a big U-turn back to Rome. He made mistakes and met failure in his peace-making attempts with the Briton Christians. He often wrote to Rome for decisions on matters he could have decided on his own had he been more self-assured. He even received mild warnings against pride from Pope Gregory, who cautioned him to "fear lest, amidst the wonders that are done, the weak mind be puffed up by self-esteem." Augustine's perseverance amidst obstacles and only partial success teaches us to struggle on despite frustrations and be satisfied with gradual advances.
St Joan of Arc May 30th
The story of Joan of Arc is well known because of the survival of two principal sources when her case was first of all heard at her trial in 1431 when she was condemned to death as a heretic and the other trial, completed 25 years later, when her name was cleared. But there are many discrepancies between the different accounts of the witnesses and their testimony. The story is that she was a peasant girl, a maid (la pucelle) who believed she had been sent by God to save France. She believed that God had spoken to her through angel voices. She dressed in armour as though she were a man. She was at the lifting of the siege of Orléans, which was surrounded by English armies and she led her king, Charles VII, to be crowned at Reims. What happened?
The kingdom of France was deeply divided by civil war and by the Hundred Years War against the English. In February 1429, Joan arrived at the Armagnac court at Chinon castle where she claimed she had been sent by God. Obviously, she was thoroughly questioned by Armagnac theologians but their quandary was that if Charles were to put his faith in a false prophet, his kingdom of France would be lost forever. But if he rejected the words of a true prophet, the result would be equally disastrous. The road to Reims was blocked by the armies of the English at Orléans.
Orléans was a strategic city, held by the French but besieged by the English army. The defeat of the English armies at Orléans was a pivotal moment in the 100 years war and regarded as a miracle by the French. This was undoubtedly a sign that Joan had indeed been sent by God!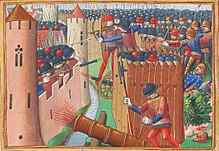 But seeing God's will at work in the world can be a treacherous business. Later on, in 1429, she failed to liberate Paris which was being held by the allies of the English, the Burgundians who were also deadly enemies of the Armagnacs. She was captured outside Compiegne in May 1430 and put on trial.
At first, she was bold and defiant during the prolonged interrogations to which she was subjected. She claimed that "The sign you need is that God will deliver me from your hands and it is the most certain one He could send you." But rescue did not come and on 24th May 1431, bound at the scaffold with the executioner standing by, she recanted and accepted a sentence of perpetual imprisonment and put on female dress which she had refused to wear all during the campaign. A few days later however the judges were called back to her cell where they found her in men's clothing and once again making her claims. There is a suggestion that she had been assaulted by the guards but, in any case, she was broken realising that her voices would not save her from a dreadful death.
The story is that a witness in Rouen on 30th May 1431, the day of Joan's death, bumped into the secretary of the English king himself, returning from the execution, who lamented "We are all undone for a saint has been burned!" One cleric declared that Joan's heart had remained whole and unconsumed by the fire …… or was it a white dove which had been fluttering from the flames as Joan breathed her last. Yet the English and Burgundian French, who had condemned her, believed she was a heretic under the Devil's sway, who had resisted God's will that English France should prevail.
Twenty five years later, with France united under its Armagnac king, that judgement could no longer stand and many more witnesses came forward to state that even the English had been overwhelmed by the enormity of what they had done.
Prayer for Reconciliation after the EU Referendum (from Church of England website)
Eternal God, Light of the nations,
in Christ you make all things new:
guide our nation in the coming days through the inspiration of your Spirit,
that understanding may put an end to discord and all bitterness.
Give us grace to rebuild bonds of trust
that together we may work for the dignity and flourishing of all;
through Jesus Christ our Lord.
There is also this Litany of Reconciliation which can be used for private prayer
A Litany of Reconciliation
Holy God, in whom we live and move and have our being,
we make our prayer to you, saying,
Hear us, Lord of life.
Lord, graciously hear us.
Guide our nation in the days and months ahead
to walk the paths of peace and reconciliation.
Hear us, Lord of life.
Lord, graciously hear us.
Give to our leaders wisdom and sensitivity
to work for unity and the common good.
Hear us, Lord of life.
Lord, graciously hear us.
Mend broken relationships
and restore to wholeness whatever has been damaged by heated debate.
Hear us, Lord of life.
Lord, graciously hear us.
Sustain and support the anxious and fearful
and lift up all who are dejected.
Hear us, Lord of life.
Lord, graciously hear us.
With you, Lord, is the well of life
and in your light do we see light.
Hear us, Lord of life and peace:
and make us whole.
With you, Lord, is the well of life
and in your light do we see light.
Hear us, Lord of life:
Heal us and make us whole.
A period of silence follows.
Lord our God,
accept the prayers of your people
and in your mercy look with compassion upon our nation,
for the sake of Jesus Christ our Lord.
Amen.
If you have any comments or would like to include a prayer in this prayer diary, please do contact Julie at juliejohnson34@gmail.com or on 0467 281025