January 2018 Prayer Diary
It may be a good idea to print out this list, so that you can have it handy! I stick mine onto the fridge door.
January Prayer Diary 2018
Monday 1st January
As we enter a new year we pray for peace; peace in the world and peace in our own lives.
Tuesday 2nd January
Pray that those negotiating Britain leaving the EU may have wisdom, patience and understanding.
Wednesday 3rd January
Pray for those sleeping outside in our cities both in France and UK.
Thursday 4th January
Pray for those who tonight will go to bed hungry
Friday 5th January
Pray for organisations like Restos du Coeur and Secours Populaire.
Saturday 6th January: Epiphany
Celebrating the journey of the wise men we pray that the Light of Christ may draw more people towards God
Sunday 7th January: Baptism of Christ and Epiphany 1
Pray for those going to the Breakfast Club this morning.
Monday 8th January
Pray for chaplaincies in France who have no priest in charge, like the Gard and St Michael's Versailles.
Tuesday 9th January
Pray that we may reflect the love of God towards all the people we meet today
Wednesday 10th January
Pray for those meeting at St Joseph's for the prayer group this morning
Thursday 11th January
Pray for those in pain, both physical and emotional and that they may find the support they need.
Friday 12th January
Pray for all those out of work and searching for a job
Saturday 13th January: George Fox, founder of the Quakers
Pray for all those working for peace in the world
Sunday 14th January: Epiphany 2
Pray that the light from our church at St Pargoire may spread throughout the Hérault
Monday 15th January
Pray for those who are imprisoned for political reasons or unjustly.
Tuesday 16th January
Pray for those who are victims of robbery or violence
Wednesday 17th January
As Mary and Joseph fled from Bethlehem with their baby, we pray for all refugees fleeing from danger.
Thursday 18th January: Week of Prayer for Christian Unity, 18th-25th
Pray for Christians who are being persecuted for their faith
Friday 19th January
Pray for our brothers and sisters in the Roman Catholic churches in the Hérault
Saturday 20th January
Pray for our friends in Simply church
Sunday 21st January: Epiphany 3
Pray for our sisters and brothers in the Eglise Reformée
Monday 22nd January
Pray for Christians in the Orthodox Church.
Tuesday 23rd January
Pray for those who are struggling with their faith
Wednesday 24th January
Pray for the work of CSF and for all those suffering with cancer
Thursday 25th January: Conversion of St Paul
Pray for all those who devote their lives to God's service
Friday 26th January: Timothy and Titus, companions of St Paul
Pray for those facing difficulties and hardship and yet who keep going in spite of everything, like Paul's companions.
Saturday 27th January: Holocaust Memorial Day
Pray for all victims of racial and religious intolerance in this world full of hatred and violence
Sunday 28th January: Epiphany 4, St Thomas Aquinas
Pray for those going to the ecumenical service this evening
Monday 29th January
Pray for Roger our chaplain that God may support him in his ministry
Tuesday 30th January
Pray for our church wardens Patricia and Nigel and give praise for the work they do.
Wednesday 31st January
Pray for those in hospital and for the doctors and nurses who care for them
Give thanks for all those who have written about our faith and helped us to understand more about God.
Pray for the development of Anglican and Catholic relations here in the Hérault.
Pray for those who are being trafficked and used as slaves.
If you have any comments or would like to include a prayer in this prayer diary, please do contact Julie at juliejohnson34@gmail.com or on 0467 281025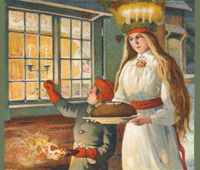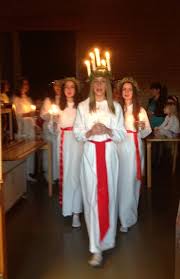 Saint Lucy or Santa Lucia 13th December
Saint Lucy's Day is a Christian feast day celebrated on 13 December in Advent, commemorating Saint Lucy, a 3rd-century martyr under the Diocletian Persecution, who according to legend brought "food and aid to Christians hiding in the catacombs" using a candle-lit wreath to "light her way and leave her hands free to carry as much food as possible".
The oldest archaeological evidence comes from the Greek inscriptions from the catacombs of St. John in Syracuse. By the 6th century, her story was sufficiently widespread that she appears in the Sacramentary of Pope Gregory I. She is also commemorated in the ancient Roman Martyrology and later the Venerable Bede (English, died in 735) wrote that her popularity had already spread to England, where her festival was kept in England until the Protestant Reformation
Her feast once coincided with the Winter Solstice, the shortest day of the year before calendar reforms, so her feast day has become a Christian festival of light. Falling within the Advent season, Saint Lucy's Day is viewed as an event signaling the arrival of Christmastide, pointing to the arrival of the Light of Christ in the calendar, on Christmas Day.
Saint Lucy's Day is celebrated most commonly in Scandinavia, with their long dark winters, where it is a major feast day, and in Italy, with each emphasizing a different aspect of the story.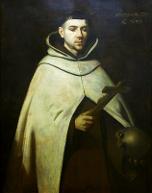 St John of the Cross 14th December
John of the Cross (Spanish: San Juan de la Cruz; 1542[ – 14 December 1591) was a major figure of the Counter-Reformation, a Spanish mystic, a Roman Catholic saint, a Carmelite friar and a priest, who was born at Fontiveros, Old Castile. He was the spiritual director to St Teresa of Avila and important in the development of the reforms of the Carmelite order of Nuns and that of Friars.
John of the Cross is known for his writings. Both his poetry and his studies on the growth of the soul are considered the summit of mystical Spanish literature and one of the peaks of all Spanish literature. He was canonized as a saint in 1726 by Pope Benedict XIII. He is one of the thirty-six Doctors of the Church.
His complete poems add up to fewer than 2500 verses but two of them—the Spiritual Canticle and the Dark Night of the Soul—are widely considered masterpieces of Spanish poetry, both for their formal stylistic point of view and their rich symbolism and imagery. His theological works often consist of commentaries on these poems.
The Dark Night narrates the journey of the soul from its bodily home to union with God. It happens during the night, which represents the hardships and difficulties met in detachment from the world and reaching the light of the union with the Creator. There are several steps in this night, which are related in successive stanzas. The main idea of the poem can be seen as the painful experience that people endure as they seek to grow in spiritual maturity and union with God. The poem of this title was likely written in 1578 or 1579. In 1584-5, John wrote a commentary on the first two stanzas and first line of the third stanza of the poem.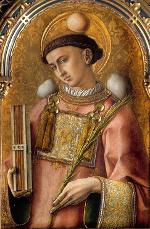 St Stephen is commemorated on 26th December
Saint Stephen was one of the first deacons of the Christian Church. He was the first Christian martyr.
Stephen is believed to have been a Greek Jew who converted to Christianity. As the number of disciples increased, there was confusion over the distribution of alms and the serving of the poor especially those who were originally of Greek descent who said they were being discriminated against. Stephen was chosen as one of the seven deacons who would distribute alms.
He was an excellent and well trusted orator. His preaching style was very effective and many Jews in the synagogues became worried about his success in converting people to Christianity. The Jews accused him of blasphemy and he was made to stand trial.
At the supreme Jewish law court, the Sanhedrin, Stephen recounted the many mercies that God had given the children of Israel, and the ungrateful way in which they had repaid Him. He made a speech in his defence which takes up most of Acts chapter 7, in which he accused them of murdering Jesus, whose coming, he said, had been foretold by Moses. This angered the crowd and he was dragged out onto the streets. He was then stoned to death, an event witnessed by Saul, later of course known as St Paul. It is believed he died around the year 34CE.
He is believed to have been initially buried in a grave to the north of Jerusalem, but this body was exhumed and moved to a new grave outside the Damascus Gate. This is where the stoning is believed to have taken place.
Stephen is the patron saint of deacons, headaches, horses, coffin makers, and masons. He is often represented carrying a pile of rocks or with rocks on his head.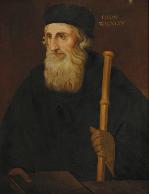 John Wycliffe is commemorated on December 31st
John Wycliffe was born about 1330 in North Yorkshire and became an influential theologian, lay preacher, university teacher at Oxford and translator. He died in 1384. He was an important dissident during the 14th century and his followers were known as Lollards who preached anticlerical and biblically-centred reforms and were a forerunner of the Protestant Reformation. He was one of the earliest opponents of papal authority over secular power. Wycliffe preached three doctrines that the Roman Catholic Church recognized as major threats. Firstly he said that the individual's interpretation of the Bible was the best guide to a moral life, as opposed to the Church's emphasis on receiving its sacraments as the only way to salvation. Secondly he insisted that holiness of an individual was more important than his official role; that is, a truly pious person was morally superior to a wicked ordained cleric. Wycliffe challenged the privileged status of the clergy, which was central to their powerful role in England. Finally he attacked the luxurious and exorbitant luxury and pomp of the churches and their ceremonies
Wycliffe was also an early advocate for translation of the Bible into the everyday language as opposed to Latin. He completed his translation directly from the Vulgate or Latin version into English in the year 1382. This is now known as Wycliffe's Bible. It is probable that he personally translated the Gospels of Matthew, Mark, Luke, and John; and it is possible he translated the entire New Testament, while his associates translated the Old Testament
Prayer for Reconciliation after the EU Referendum (from Church of England website)
Eternal God, Light of the nations,
in Christ you make all things new:
guide our nation in the coming days through the inspiration of your Spirit,
that understanding may put an end to discord and all bitterness.
Give us grace to rebuild bonds of trust
that together we may work for the dignity and flourishing of all;
through Jesus Christ our Lord.
There is also this Litany of Reconciliation which can be used for private prayer
A Litany of Reconciliation
Holy God, in whom we live and move and have our being,
we make our prayer to you, saying,
Hear us, Lord of life.
Lord, graciously hear us.
Guide our nation in the days and months ahead
to walk the paths of peace and reconciliation.
Hear us, Lord of life.
Lord, graciously hear us.
Give to our leaders wisdom and sensitivity
to work for unity and the common good.
Hear us, Lord of life.
Lord, graciously hear us.
Mend broken relationships
and restore to wholeness whatever has been damaged by heated debate.
Hear us, Lord of life.
Lord, graciously hear us.
Sustain and support the anxious and fearful
and lift up all who are dejected.
Hear us, Lord of life.
Lord, graciously hear us.
With you, Lord, is the well of life
and in your light do we see light.
Hear us, Lord of life and peace:
and make us whole.
With you, Lord, is the well of life
and in your light do we see light.
Hear us, Lord of life:
Heal us and make us whole.
A period of silence follows.
Lord our God,
accept the prayers of your people
and in your mercy look with compassion upon our nation,
for the sake of Jesus Christ our Lord.
Amen.
If you have any comments or would like to include a prayer in this prayer diary, please do contact Julie at juliejohnson34@gmail.com or on 0467 281025