It may be a good idea to print out this list, so that you can have it handy! I stick mine onto the fridge door.
Thursday 1st March: St David
Pray for the work of Restos du Coeur, for the people in need. Pray that they may receive both food and strength.
Friday 2nd March: Women's World Day of Prayer
WWDP takes place throughout the world. This year the service was written by the women of Suriname and is about caring for the environment.
Saturday 3rd March
Pray for those Christians in the world who are not free to worship or who are persecuted for their faith.
Sunday 4th March: 3rd Sunday of Lent
Pray for those going to the Breakfast Club meeting at Roger and Delia's for study of the Epistle to the Galatians
Monday 5th March
Pray for all those who live in places where there is conflict. Pray that the leaders of these countries may bring peace to their people.
Tuesday 6th March
In particular we pray for the people of Ghouta in Syria, the people in the Yemen, the Rohingya and the people of South Sudan and the Democratic Republic of the Congo.
Wednesday 7th March
Pray for those going to the Lent Group at Ingrid and Nigel's house.
Thursday 8th March
Pray for those whose lives are full of hatred and anger. May they find a way forward to show and receive love.
Friday 9th March
Pray for our churchwardens Patricia and Nigel and all who work for our Chaplaincy and for the upkeep of the church.
Saturday 10th March
Pray for our priest Roger that he may have the strength and courage and support to do God's work.
Sunday 11th March: 4th Sunday of Lent: Mothering Sunday
Pray for those going to the service at St Pargoire this morning giving thanks for mothers everywhere and in all circumstances.
Monday 12th March
Pray that we may find the grace to forgive and receive forgiveness.
Tuesday 13th March
Pray that we may respect God's creation and work towards saving the environment.
Wednesday 14th March
Pray for those going to the Lent Lunch at Delia and Roger's house
Thursday 15th March
Pray for all the families in our congregation and for those whose families are far away.
Friday 16th March
Pray for the music group which meets today to choose hymns and music for our services.
Saturday 17th March St Patrick
As St Patrick was a missionary pray for all those who work to spread the knowledge of the love of God throughout the world.
Sunday 18th March: 5th Sunday of Lent: Beginning of Passiontide
This fifth Sunday in Lent let us pray for ourselves, that we may reflect the glory of God in our daily lives and never forget his presence with us.
Monday 19th March: Joseph of Nazareth
Pray for the nuns and monks at St Joseph's near Puimisson that by their life and prayers they spread the Gospel.
Tuesday 20th March
Pray for all those who are ill, at home or in hospital and for those looking after them, especially any known personally to us.
Wednesday 21st March
Pray for those going to the lent lunch at Carol and Graham's house.
Thursday 22nd March
Pray for our friends in the Roman Catholic churches, those in the Reformed churches here in the Hérault and our friends in Simply church.
Friday 23rd March
Pray for those Chaplaincies without a priest in charge in France, like Versailles and the Gard.
Saturday 24th March: Annunciation of Our Lord to the Blessed Virgin Mary
Pray that we may understand what God is calling us to do and like Mary follow his calling without question.
Sunday 25th March: Palm Sunday
Pray for the glory of Jesus as he enters into Jerusalem.
Monday 26th March: Monday in Holy Week
Tuesday March 27th Tuesday in Holy Week
Pray for all of those who help us in some way in our daily lives, the local dustmen, shopkeepers, and postmen; those who work in supermarkets.
Wednesday 28th March: Wednesday in Holy Week
Pray for the work of CSF (Cancer Support France), for courage for people who are suffering from cancer and for strength for the people who care for them.
Thursday 29th March: Maundy Thursday
Pray that we may always have the courage to follow Christ and never flee from His presence.
Friday 30th March: Good Friday
Today we stand at the foot of the Cross
Saturday 31st March: Holy Saturday
Pray for all those walking in the valley of the shadow of death, that it may lead them to a new life.
Pray for the development of Anglican and Catholic relations here in the Hérault.
Pray for those who are being trafficked and used as slaves.
If you have any comments or would like to include a prayer in this prayer diary, please do contact Julie at juliejohnson34@gmail.com or on 0467 281025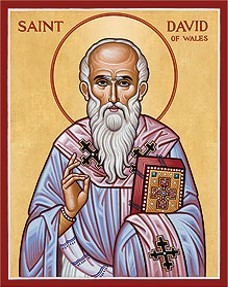 Dydd Gwyl Dewi Sant, otherwise known as St David's Day, is celebrated on March 1 every year. St David is the patron saint of Wales and doves.
He was born in Caerai in Pembrokeshire, Wales, to Sant, a prince of Cardigan, and St Non, the daughter of chieftain in around 500 AD.
Legend has it that he went on a pilgrimage, which led all the way to Jerusalem, where he was made an Archbishop.
He is also believed to have helped to spread the word of Christianity, and he founded around 12 monasteries in his lifetime.
Legend has it that he went on a pilgrimage, which led all the way to Jerusalem, where he was made an Archbishop.
He is also believed to have helped to spread the word of Christianity, and he founded around 12 monasteries in his lifetime.
However, very little else is known about his life other than the fact he is credited with performing several miracles.
The most famous is believed to have been when he was preaching to a large crowd at the Synod of Brefi and he raised the ground beneath the hill so all those there could hear his sermon.
It is also believed he lived after eating poisoned bread and even restored the sight of his tutor, St Paulinus.
St David is thought to have died on March 1, 589AD with his remains buried at St David's Cathedral in Pembrokeshire.
He was officially recognised as a saint by Pope Callixtus in 1120.Y
What symbols are associated with St David's Day?
Although many associate St David with leeks or daffodils, his symbol is actually the Dove, which usually rests on his shoulder.
But during a battle against the Saxons, St David apparently advised soldiers to wear leeks on their hats to avoid friendly fire, so they now represent national pride.
Daffodils, which are in bloom around this time of year, became the national symbol for Wales in the 19th Century.

St. Patrick of Ireland is one of the world's most popular saints. He was born in Roman Britain and when he was fourteen or so, he was captured by Irish pirates during a raiding party and taken to Ireland as a slave to herd and tend sheep. At the time, Ireland was a land of Druids and pagans but Patrick turned to God and wrote his memoir, The Confession. In The Confession, he wrote:
"The love of God and his fear grew in me more and more, as did the faith, and my soul was rosed, so that, in a single day, I have said as many as a hundred prayers and in the night, nearly the same. I prayed in the woods and on the mountain, even before dawn. I felt no hurt from the snow or ice or rain."
Patrick's captivity lasted until he was twenty, when he escaped after having a dream from God in which he was told to leave Ireland by going to the coast. There he found some sailors who took him back to Britain and was reunited with his family.
A few years after returning home, Patrick saw a vision he described in his memoir:
"I saw a man coming, as it were from Ireland. His name was Victoricus, and he carried many letters, and he gave me one of them. I read the heading: 'The Voice of the Irish.' As I began the letter, I imagined in that moment that I heard the voice of those very people who were near the wood of Foclut, which is beside the western sea-and they cried out, as with one voice: 'We appeal to you, holy servant boy, to come and walk among us.'"
The vision prompted his studies for the priesthood. He was ordained by St. Germanus, the Bishop of Auxerre, whom he had studied under for years, and was later ordained a bishop and sent to take the Gospel to Ireland.
Patrick arrived in Slane, Ireland on March 25, 433. There are several legends about what happened next, with the most prominent claiming he met the chieftain of one of the druid tribes, who tried to kill him. After an intervention from God, Patrick was able to convert the chieftain and preach the Gospel throughout Ireland. There, he converted many people -eventually thousands - and he began building churches across the country.
He often used shamrocks to explain the Holy Trinity and entire kingdoms were eventually converted to Christianity after hearing Patrick's message.
Patrick preached and converted all of Ireland for 40 years. He worked many miracles and wrote of his love for God in Confessions. After years of living in poverty, traveling and enduring much suffering he died March 17, 461.
He died at Saul, where he had built the first Irish church. He is believed to be buried in Down Cathedral, Downpatrick. His grave was marked in 1990 with a granite stone.
In His Footsteps:
Patrick was a humble, pious, gentle man, whose love and total devotion to and trust in God should be a shining example to each of us. So complete was his trust in God, and of the importance of his mission, he feared nothing -not even death.
"The Breastplate," Patrick's poem of faith and trust in God:
"Christ be within me, Christ behind me, Christ before me, Christ beside me, Christ to win me, Christ to comfort and restore me, Christ beneath me, Christ above me, Christ inquired, Christ in danger, Christ in hearts of all that love me, Christ in mouth of friend and stranger."
Patrick is recognised globally as the patron saint of Ireland, but what many people don't know is that St Patrick is also the patron saint of engineers.
Julie's favourite picture of the annunciation is by Fra Angelico in the Prado Museum Madrid.
The Annunciation 25th March
The Annunciation (from Latin annuntiatio), also referred to as the Annunciation to the Blessed Virgin Mary, the Annunciation of Our Lady, or the Annunciation of the Lord, is the Christian celebration of the announcement by the angel Gabriel to the Virgin Mary that she would conceive and become the mother of Jesus, the Son of God, marking his Incarnation.[2] Gabriel told Mary to name her son Yeshua, meaning "YHWH is salvation".
According to Luke 1:26, the Annunciation occurred "in the sixth month" of Elizabeth's pregnancy with John the Baptist. Many Christians observe this event with the Feast of the Annunciation on 25 March, an approximation of the "northern vernal equinox" nine full months before Christmas, the ceremonial birthday of Jesus. In England, this came to be known as Lady Day, and Lady Day marked the beginning of the English new year until 1752. The 2nd-century writer Irenaeus of Lyon regarded the conception of Jesus as 25 March coinciding with the Passion.
The Annunciation has been a key topic in Christian art in general, particularly during the Middle Ages and Renaissance. A work of art depicting the Annunciation is sometimes itself called an Annunciation.
In the Bible, the Annunciation is narrated in Luke 1:26–38:
26 In the sixth month of Elizabeth's pregnancy, God sent the angel Gabriel to Nazareth, a town in Galilee, 27 to a virgin pledged to be married to a man named Joseph, a descendant of David. The virgin's name was Mary. 28 The angel went to her and said, "Greetings, you who are highly favoured! The Lord is with you."
29 Mary was greatly troubled at his words and wondered what kind of greeting this might be. 30 But the angel said to her, "Do not be afraid, Mary; you have found favour with God. 31 You will conceive and give birth to a son, and you are to call him Jesus. 32 He will be great and will be called the Son of the Most High. The Lord God will give him the throne of his father David,
33 and he will reign over Jacob's descendants forever; his kingdom will never end."
34 "How will this be," Mary asked the angel, "since I am a virgin?"
35 The angel answered, "The Holy Spirit will come on you, and the power of the Most High will overshadow you. So, the holy one to be born will be called the Son of God.
36 Even Elizabeth your relative is going to have a child in her old age, and she who was said to be unable to conceive is in her sixth month.
37 For no word from God will ever fail."
38 "I am the Lord's servant," Mary answered. "May your word to me be fulfilled." Then the angel left her.
A separate, briefer annunciation is given to Joseph in Matthew 1:18–22:
18 This is how the birth of Jesus the Messiah came about: His mother Mary was pledged to be married to Joseph, but before they came together, she was found to be pregnant through the Holy Spirit.
19 Because Joseph her husband was faithful to the law, and yet did not want to expose her to public disgrace, he had in mind to divorce her quietly.
20 But after he had considered this, an angel of the Lord appeared to him in a dream and said, "Joseph son of David, do not be afraid to take Mary home as your wife, because what is conceived in her is from the Holy Spirit.
21 She will give birth to a son, and you are to give him the name Jesus, because he will save his people from their sins."
22 All this took place to fulfil what the Lord had said through the prophet:
23 "The virgin will conceive and give birth to a son, and they will call him Immanuel" (which means "God with us").
Interestingly, the Annunciation is also described in the Quran, in Sura 003:045 (Al-i-Imran – The Family of Imran) verses 45–51 (Yusuf Ali translation):
45 Behold! the angels said: "O Mary! Allah giveth thee glad tidings of a Word from Him: his name will be Christ Jesus, the son of Mary, held in honour in this world and the Hereafter and of (the company of) those nearest to Allah;"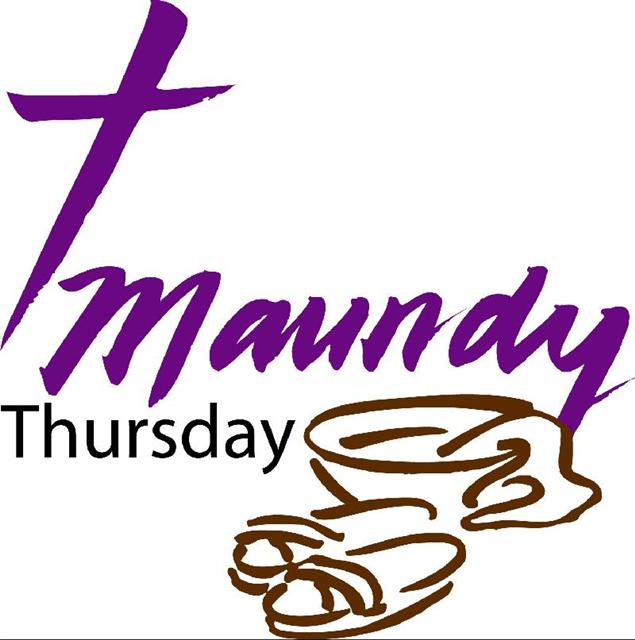 Maundy Thursday
Maundy Thursday commemorates the Maundy and Last Supper of Jesus Christ with the Apostles as described in the Gospels. It is the fifth day of Holy Week, and is preceded by Holy Wednesday and followed by Good Friday.
Every single Communion Service, we hear the words "on the night he was betrayed." That night was Holy Thursday, and it is one of the most important nights.
What happened on the original Holy Thursday?
An amazing amount of stuff! This was one of the most pivotal days in the life of Jesus Christ.
Here are some of the things the gospels record for this day (including events that happened after midnight). Jesus:
Sent Peter and John to arrange for them to use the Upper Room to hold the Passover meal.
Washed the apostles' feet.
Held the first Eucharist.
Instituted the priesthood.
Announced that Judas would betray him.
Gave the "new commandment" to love one another.
Indicated that Peter had a special pastoral role among the apostles.
Announced that Peter would deny him.
Prayed for the unity of his followers.
Held all the discourses recorded across five chapters of John (John 13-18).
Sang a hymn.
Went to the Mount of Olives.
Prayed in the Garden of Gethsemane.
Was betrayed by Judas.
Stopped the disciples from continuing a violent resistance.
Healed the ear of Malchus, the high priest's servant, after Peter cut it off with a sword.
Was taken before the high priests Annas and Caiaphas.
Was denied by Peter.
Was taken to Pilate.
It was momentous!
Most scholars[agree that the English word maundy comes from Middle English and Old French mandé, from the Latin mandatum (also the origin of the English word "mandate"), the first word of the phrase "Mandatum novum do vobis ut diligatis invicem sicut dilexi vos" ("A new commandment I give unto you: That you love one another, as I have loved you, that you also love one another.") This statement by Jesus in the Gospel of John 13:34 by which Jesus explained to the Apostles the significance of his action of washing their feet.
The Washing of the Feet is a traditional component of the celebration. The priest washes the feet of members of the congregation in remembrance of Jesus washing the feet of his disciples and so represents the service and charity of Christ, who came "not to be served, but to serve". After the service the altar is often stripped bare and the congregation quickly leave in silence, remembering the fact that the disciples ran away after Jesus was arrested.
Others think that the English name "Maundy Thursday" arose from "maundsor baskets" or "maundy purses" of alms which the king of England distributed to certain poor at Whitehall before attending Mass on that day. Thus, "maund" is connected to the Latin mendicare, and French mendier, to beg.
Maundy Thursday celebrations in the United Kingdom (also called Royal Maundy) today involve the Monarch offering "alms" to deserving senior citizens, one man and one woman for each year of the sovereign's age. These coins, known as Maundy money or Royal Maundy, are distributed in red and white purses, and is a custom dating back to King Edward I. The red purse contains regular currency and is given in place of food and clothing; the white purse has money in the amount of one penny for each year of the Sovereign's age. Since 1822, rather than ordinary money, the Sovereign gives out Maundy coins which are specially minted 1, 2, 3 and 4 penny pieces, and are legal tender. The service at which this takes place rotates around English and Welsh churches, though in 2008 it took place for the first time in Northern Ireland at Armagh Cathedral. Until the death of King James II, the Monarch would also wash the feet of the selected poor people. There is an old sketch, done from life, of Queen Elizabeth I washing people's feet on Maundy Thursday.
Prayer for Reconciliation after the EU Referendum (from Church of England website)
Eternal God, Light of the nations,
in Christ you make all things new:
guide our nation in the coming days through the inspiration of your Spirit,
that understanding may put an end to discord and all bitterness.
Give us grace to rebuild bonds of trust
that together we may work for the dignity and flourishing of all;
through Jesus Christ our Lord.
There is also this Litany of Reconciliation which can be used for private prayer
A Litany of Reconciliation
Holy God, in whom we live and move and have our being,
we make our prayer to you, saying,
Hear us, Lord of life.
Lord, graciously hear us.
Guide our nation in the days and months ahead
to walk the paths of peace and reconciliation.
Hear us, Lord of life.
Lord, graciously hear us.
Give to our leaders wisdom and sensitivity
to work for unity and the common good.
Hear us, Lord of life.
Lord, graciously hear us.
Mend broken relationships
and restore to wholeness whatever has been damaged by heated debate.
Hear us, Lord of life.
Lord, graciously hear us.
Sustain and support the anxious and fearful
and lift up all who are dejected.
Hear us, Lord of life.
Lord, graciously hear us.
With you, Lord, is the well of life
and in your light do we see light.
Hear us, Lord of life and peace:
and make us whole.
With you, Lord, is the well of life
and in your light do we see light.
Hear us, Lord of life:
Heal us and make us whole.
A period of silence follows.
Lord our God,
accept the prayers of your people
and in your mercy look with compassion upon our nation,
for the sake of Jesus Christ our Lord.
Amen.
If you have any comments or would like to include a prayer in this prayer diary, please do contact Julie at juliejohnson34@gmail.com or on 0467 281025