It may be a good idea to print out this list, so that you can have it handy! I stick mine onto the fridge door.
Friday 1st March: St David
Pray for all those people taking part in the services for the World Day of Prayer throughout the world. This year the service is organised by women in Slovenia.
Saturday 2nd March
We offer praise to God for the beauty of the world around us here in the Hérault, for His creation.
Sunday 3rd March: Sunday next before Lent
May our hearts always be open to compassion and understanding of others. Also bless those going to see the film on which our Lent course is based.
Monday 4th March
Pray for those Christians in the world who are not free to worship or who are persecuted for their faith.
Tuesday 5th March
Pray for all those who live in places where there is conflict. Pray that the leaders of these countries may bring peace to their people.
Wednesday 6th March: Ash Wednesday
Pray that through contemplation and prayer we grow closer to God during this time of Lent.
Thursday 7th March
Pray for those whose lives are full of hatred and anger. May they find a way forward to show and receive love.
Friday 8th March
Pray for our churchwardens Patricia and Nigel and all who work for our Chaplaincy and for the upkeep of the church.
Saturday 9th March
Pray for our priest Roger that he may be sustained by the Holy Spirit.
Sunday 10th March: First Sunday of Lent
Pray for our Chaplaincy that it may be a beacon lo love and faith throughout the whole of the Hérault.
Monday 11th March
Lord, be in my home, be beside me, let knowledge of you flood my life.
Tuesday 12th March
Pray that we may find the grace to forgive and receive forgiveness.
Wednesday 13th March
Pray for those going to the Lent lunch at Jenny's house. Pray that these meetings give fellowship and greater understanding of our faith.
Thursday 14th March
Pray that we may respect God's creation and work towards saving the environment.
Friday 15th March
Pray for all of those who help us in some way in our daily lives, the local dustmen, shopkeepers, and postmen
Saturday 16th March
Pray for the music group which chooses our hymns and the music for our services.
Sunday 17th March: 2nd Sunday of Lent. St Patrick
As St Patrick was a missionary pray for all those who work to spread the knowledge of the love of God throughout the world.
Monday 18th March:
Pray for those who have been victims of human trafficking.
Tuesday 19th March: Joseph of Nazareth
Pray for the nuns and monks at St Joseph's near Puimisson that by their life and prayers they spread the Gospel.
Wednesday 20th March
Pray for those at the lent Lunch in Ingrid and Nigel's house; that there will be sharing of our thoughts and ideas as we gather together.
Thursday 21st March
Pray for teachers who are working in difficult conditions to bring learning to youngsters, especially those teachers in the developing countries.
Friday 22nd March
Pray for our friends in the Roman Catholic churches, those in the Reformed churches here in the Hérault and our friends in Simply church.
Saturday 23rd March
On the anniversary of the assassination of Archbishop Oscar Romero, let us give thanks to God for all those who stand up for justice for the poor.
Sunday 24th March: 3rd Sunday of Lent
Give thanks for all those whose work, often unseen, makes our services possible; for the congregation that they feel God's presence with us.
Monday 25th March: Annunciation of Our Lord to the Blessed Virgin Mary
Pray that we may understand what God is calling us to do and like Mary follow his calling without question.
Tuesday 26th March
Pray for those who are in pain or suffering or sad that they may find the support they need and understand your presence with them.
Wednesday March 27th
Pray for those going to the Lent lunch at Judy and Tim's house.
Thursday 28th March
Pray for the work of CSF (Cancer Support France), for courage for people who are suffering from cancer and for strength for the people who care for them.
Friday 29th March
Pray for people in need and for the work of Restos du Coeur.
Saturday 30th March
Pray for the refugees in our society and especially the work of Solidarity with Refugees.
Sunday 31st March: 4th Sunday of Lent Mothering Sunday
Pray for our families; the family of the church, our own mothers and our own families, sometimes far away but always with us in our minds.
Pray for the development of Anglican and Catholic relations here in the Hérault.
Pray for those who are being trafficked and used as slaves.
If you have any comments or would like to include a prayer in this prayer diary, please do contact Julie at juliejohnson34@gmail.com or on 0467 281025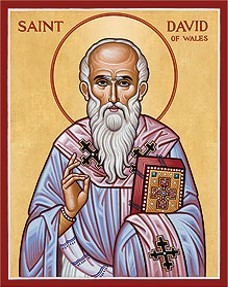 1 March - Saint David was a Welsh bishop during the 6th Century. It is thought that he was born in Ceredigion and he became renowned as a teacher and preacher. He founded monastic settlements and churches throughout Wales and in Brittany. He preached opposition to Pelagianism, a very popular heresy at the time and because of his eloquence was elected bishop of Wales. He is even supposed to have visited Jerusalem on a pilgrimage and been anointed archbishop by the Patriarch there.
His best-known miracle is said to have taken place in the middle of a large crowd in Wales when the ground on which he stood is supposed to have risen to form a small hill so that everyone could see and hear him.
St David was a monk and founded many monasteries. The Monastic Rule of St David was very harsh. Monks had to pull a plough themselves without any draught animals. They could drink only water and eat only bread with salt and herbs and spend the evening in prayer, reading and writing. No personal possessions were allowed. Even to say "my book" was considered an offence.
The exact year of his death is not known but it is thought he died on March 1st and he was officially recognised as a saint by Pope Callixtus in 1120.
According to legend on the eve of the battle against the Saxons St David advised the Britons to wear leeks in their caps so as to easily distinguish friend from foe. This helped to secure a great victory. Today Welsh people around the world wear leeks on St David's Day. It is also a surviving tradition that soldiers in the Welsh regiments eat a raw leek on St David's Day.
The Welsh for leek (the original national emblem) is Cenhinen, while the Welsh for daffodil is Cenhinen Pedr. Over the years they became confused until the daffodil was adopted as a second emblem of Wales.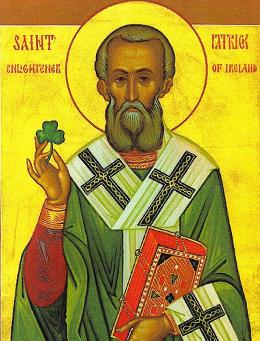 St Patrick 17 March
The dates of St Patrick's life cannot be fixed with certainty but there is broad agreement that he was active as a missionary in Ireland during the second half of the 5th Century. He is regarded as the founder of Christianity in Ireland, converting a society practising a form of Celtic polytheism to Christianity, although there is some limited evidence of earlier Christian presence in Ireland.
According to a book which may have been written by St Patrick himself, when he was about 16, he was captured by Irish pirates from his home in Britain and taken as a slave to Ireland looking after animals; he lived there for six years before escaping and returning to his family. After being ordained he returned to northern and western Ireland. In later life he became a bishop and by the seventh century he had already become known as the patron saint of Ireland. March 17th is the supposed date of his death.
Legends
The Shamrock
Legend credits St Patrick with teaching the Irish about the doctrine of the Holy Trinity by showing them the shamrock, a three leaved plant. This story sounds good but it only appears in writing in 1726, although it may be older. The shamrock has become an important symbol for St Patrick's day.
Patrick banishes all snakes from Ireland.
There are no snakes in Ireland and this has given rise to the legend that they were banished by St Patrick after they had attacked him during lent. However, all evidence suggests that post glacial Ireland never had any snakes. Perhaps the snakes were a metaphor for the Druids whom Patrick is said to have driven from Ireland when he established Christianity there.
Patrick's walking stick grows into a living tree
Whilst Patrick was converting the Irish, he carried an ash walking stick or staff with him. When he stopped, he stuck the stick into the ground and the message of Christianity took so long to get through to the people there that the stick had taken root by the time he was ready to move on.
Today's St Patrick's Day celebrations have been greatly influenced by those that developed among the Irish diaspora, especially in North America. Until the late 20th century, St Patrick's Day was often a bigger celebration among the diaspora than it was in Ireland.
Prayer for Reconciliation after the EU Referendum (from Church of England website)
Eternal God, Light of the nations,
in Christ you make all things new:
guide our nation in the coming days through the inspiration of your Spirit,
that understanding may put an end to discord and all bitterness.
Give us grace to rebuild bonds of trust
that together we may work for the dignity and flourishing of all;
through Jesus Christ our Lord.
There is also this Litany of Reconciliation which can be used for private prayer
A Litany of Reconciliation
Holy God, in whom we live and move and have our being,
we make our prayer to you, saying,
Hear us, Lord of life.
Lord, graciously hear us.
Guide our nation in the days and months ahead
to walk the paths of peace and reconciliation.
Hear us, Lord of life.
Lord, graciously hear us.
Give to our leaders wisdom and sensitivity
to work for unity and the common good.
Hear us, Lord of life.
Lord, graciously hear us.
Mend broken relationships
and restore to wholeness whatever has been damaged by heated debate.
Hear us, Lord of life.
Lord, graciously hear us.
Sustain and support the anxious and fearful
and lift up all who are dejected.
Hear us, Lord of life.
Lord, graciously hear us.
With you, Lord, is the well of life
and in your light do we see light.
Hear us, Lord of life and peace:
and make us whole.
With you, Lord, is the well of life
and in your light do we see light.
Hear us, Lord of life:
Heal us and make us whole.
A period of silence follows.
Lord our God,
accept the prayers of your people
and in your mercy look with compassion upon our nation,
for the sake of Jesus Christ our Lord.
Amen.
If you have any comments or would like to include a prayer in this prayer diary, please do contact Julie at juliejohnson34@gmail.com or on 0467 281025