September 2018 Prayer Diary
It may be a good idea to print out this list, so that you can have it handy! I stick mine onto the fridge door.
Saturday 1st September: World Day of Prayer for the Care of Creation
Creator God, we pray for the world around us and for our place in your world. Let us remember this month as churches pray together for creation.
Sunday 2nd September: Trinity 14
Let us walk together with those who are working to save our environment and ask for forgiveness for the damage we have caused.
Monday 3rd September
Pray for those starting school or returning to school this week and for the teachers.
Tuesday 4th September
Pray for schools not just in France but worldwide that bring education to young people, especially girls, who might not otherwise receive any education.
Wednesday 5th September
Pray for the prayer group meeting today at Montrouge and those who lead it
Thursday 6th September
As harvest begins here in the Hérault pray for those living in areas where their harvest is uncertain through drought, through civil unrest.
Friday 7th September
Pray for all those who have no place to call home, migrants, refugees and even those in our own communities.
Saturday 8th September
Pray for the victims of natural disasters, like earthquakes, floods and for the families and friends of those who died.
Sunday 9th September: Trinity 15
Pray for our community meeting together today at St Pargoire.
Monday 10th September:
Pray for peace, harmony and understanding between neighbours of different races and cultures.
Tuesday 11th September
Pray for our Chaplain, Roger and for his ministry. Pray that he may be supported by the Holy Spirit in all he does.
Wednesday 12th September
Pray for our Church Wardens, Patricia and Nigel and for all those who work to enable us to have our services at St Pargoire and elsewhere.
Thursday 13th September
Pray for Bishop Robert and Bishop David as well as our archdeacon Meurig Williams and all those in authority in our archdeaconry and diocese.
Friday 14th September: Holy Cross Day
May we be ever mindful that Jesus' death upon the cross bought us our salvation
Saturday 15th September
Pray for our friends in Simply church and for their leaders
Sunday 16th September: Trinity 16
Pray for all who are in abusive situations. May your healing power bring them peace.
Monday 17th September
On the commemoration of Hildegard of Bingen we give thanks for the work of the music committee who chose our hymns and for all those who bring music to us.
Tuesday 19th September
Give thanks to God for all the people who sustain us in life: our family, our friends and our relationships.
Wednesday 20th September
Pray for those who are ill in hospital or at home, for those in pain, that they may know God's loving presence with them.
Thursday 21st September: St Matthew (See Article)
Pray that we be ready to hear Christ's calling and follow him, just as St Matthew did.
Friday 22nd September
Pray that Christians, persecuted for their faith especially in Pakistan and in many countries of the Middle East, may know your loving presence.
Saturday 23rd September
In all areas of the world but especially in the Middle East pray that there may be peace and reconciliation.
Sunday 24th September: 15th after Trinity
Pray for the work of CSF and for the success of their sponsored walk.
Monday 25th September
Pray for those who are seeking God's will or searching for meaning in life.
Wednesday 26th September
Pray that we ourselves may find hope and peace even in the most difficult situations.
Thursday 27th September:
Give thanks to God for all the love he has shown to us and all the blessings he has given us.
Friday 28th September
Pray for all those who are lonely or depressed that they may understand God's love and help and know they are not alone.
Saturday 29th September: St Michael and All Angels
Pray for our sister Chaplaincy in the Gard, St Michael's for their life as a community and for all chaplaincies in France where there is no Chaplain.
Sunday 30th September: Trinity 18
Pray for our chaplaincy and for those at the service at St Pargoire this morning. Pray for the Bishop of Madagascar who is preaching.
Pray for the development of Anglican and Catholic relations here in the Hérault.
Pray for those who are being trafficked and used as slaves.
If you have any comments or would like to include a prayer in this prayer diary, please do contact Julie at juliejohnson34@gmail.com or on 0467 281025
Saint Matthew
Matthew was a tax collector living in Capernaum. Tax collectors were despised in the ancient world, especially among the Jews at the time of Christ, who saw the imposition of taxes as a mark of their occupation by the Romans. (Even though Matthew collected taxes for King Herod, a portion of those taxes would be passed on to the Romans.)
There is an account of his calling (Matthew 9 v9) "Jesus left that place, and as he walked along he saw a tax collector, named Matthew, sitting in his office. He said to him, "Follow me." Matthew got up and followed him." There appears to have been no hesitation! There is a tradition that after his calling, Jesus gave him the name Levi.
Saint Matthew gave a feast in Christ's honour and the guests were drawn from among his friends—including fellow tax collectors and sinners (Matthew 9:10-13). The Pharisees objected to Christ eating with such people, to which Christ responded, "I am not come to call the just, but sinners," summing up the Christian message of salvation.
It is a matter of debate whether Matthew actually wrote the Gospel which bears his name, but he would have been literate in both Greek and Aramaic. Matthew's Gospel was written to convince a Jewish reader of the validity of Jesus as the Messiah and it values tradition and is written in an orderly and structured manner.
Interestingly in a Sura of the Qur'an, Matthew is recognised as one of the disciples of Jesus.
A Prayer for St Matthew's Day, 25th September
We thank thee, heavenly Father, for the witness of your apostle And evangelist Matthew to the Gospel of your Son our Saviour; and we pray that, after his example, we may with ready wills and hearts obey the calling of our Lord to follow him; through Jesus Christ our Lord, who lives and reigns with you and the Holy Spirit, one God, now and for ever.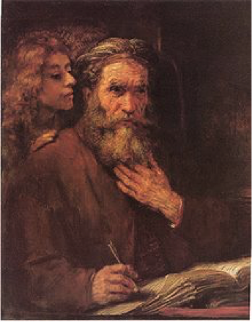 St Michael the Archangel 29th September
Saint Michael the Archangel isn't a saint, but rather he is an angel, and the leader of all angels and of the army of God. This is what the title "Archangel" means, that he is above all the others in rank.
St. Michael has four main responsibilities or offices, as we know from scripture and Christian tradition.
The first is to combat Satan.
The second is to escort the faithful to heaven at their hour of death.
The third is to be a champion of all Christians, and the Church itself.
And the fourth is to call men from life on Earth to their heavenly judgment.
Very little is known about St Michael other than what we know from scriptures, which themselves are sparse.
In Daniel, St. Michael is mentioned twice. The first time as one who helped Daniel, and the second time he is mentioned with regard to the end times of the world when he will stand for the "children of thy people."
His next mention comes in the Epistle of St. Jude, where St. Michael is said to guard the tombs of Moses and Eve and has contended with Satan over the body of Moses.
The final mention is in Revelation, where St. Michael and his angels, do battle with the dragon.
There are other scriptures where St. Michael is implied, but not mentioned by name, such as the angel; who defends the gate to Paradise, who defends against Balaam, and "who routed the army of Sennacherib."
Today, St. Michel is the patron of soldiers, police and doctors.
Prayer for Reconciliation after the EU Referendum (from Church of England website)
Eternal God, Light of the nations,
in Christ you make all things new:
guide our nation in the coming days through the inspiration of your Spirit,
that understanding may put an end to discord and all bitterness.
Give us grace to rebuild bonds of trust
that together we may work for the dignity and flourishing of all;
through Jesus Christ our Lord.
There is also this Litany of Reconciliation which can be used for private prayer
A Litany of Reconciliation
Holy God, in whom we live and move and have our being,
we make our prayer to you, saying,
Hear us, Lord of life.
Lord, graciously hear us.
Guide our nation in the days and months ahead
to walk the paths of peace and reconciliation.
Hear us, Lord of life.
Lord, graciously hear us.
Give to our leaders wisdom and sensitivity
to work for unity and the common good.
Hear us, Lord of life.
Lord, graciously hear us.
Mend broken relationships
and restore to wholeness whatever has been damaged by heated debate.
Hear us, Lord of life.
Lord, graciously hear us.
Sustain and support the anxious and fearful
and lift up all who are dejected.
Hear us, Lord of life.
Lord, graciously hear us.
With you, Lord, is the well of life
and in your light do we see light.
Hear us, Lord of life and peace:
and make us whole.
With you, Lord, is the well of life
and in your light do we see light.
Hear us, Lord of life:
Heal us and make us whole.
A period of silence follows.
Lord our God,
accept the prayers of your people
and in your mercy look with compassion upon our nation,
for the sake of Jesus Christ our Lord.
Amen.
If you have any comments or would like to include a prayer in this prayer diary, please do contact Julie at juliejohnson34@gmail.com or on 0467 281025