Welcome Leaflet, which is emailed or handed out to every new visitor to our church. If you wish to view or download the leaflet, double click on the image.
Documents concerned with administration of the chalice
DIOCESE IN EUROPE -
Diocesan Vocations Policy for those exploring Ordained Ministry.
Please check the Diocesan website for latest issue of this document.
Message from Roger:
Video on the subject of real Christian unity
Some friends from Simply Church recently sent me a video
(Click here to access the video).
It's about the hopeful signs now for real Christian unity, with some very interesting words from Pope Francis. It's quite long, over half an hour, but I found it well worth watching and recommend it to you.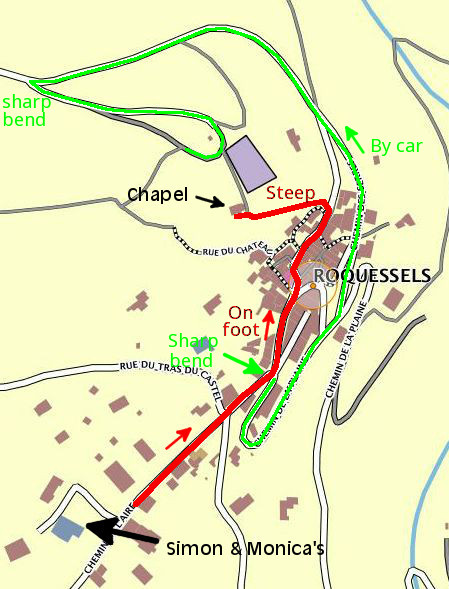 Map to get to Roquessels:
Take the D13 from Gabian to Faugères and take the right turn for Roquessels.
You can park at Simon and Monica's and walk to the chapel (see red route on map). The way shown is steep at the end, but there is a handrail.
Alternatively take the longer but less steep path marked on the map as Rue du Chateau.
If you prefer (or need) to drive, use the green route but be aware of the two sharp bends and the final quite steep road. There is limited parking behind the chateau d'eau, then walk through the cemetery to the chapel.
Christian Unity Service 2018 - The service will be an ecumenical service withby members of the Église Protestante and the Catholic Church. The service outline was devised by Christians in the Caribbean, with their history of slavery and colonialism
FONTES SERVICE SHEET 2017
Double click on the PDF Icon to open the file and download as required.
FONTÉS SERVICE SHEET 2015.
Double click on the PDF Icon to open the file and download as required.