St Cecilia: Feast Day 22nd November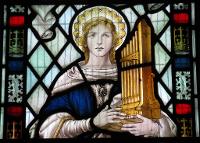 It is believed that St Cecilia was born in the 2nd or 3rd Century AD, although the exact dates of her birth and martyrdom are unknown. A religious romance telling the love story of St Cecilia and Valerian appeared in Greece in the 4th Century.
It is thought that she was the daughter of a wealthy Roman family, a Christian from birth who was promised in marriage to a pagan called Valerian. Cecilia, however, had vowed her virginity to God.
On her wedding night, she heard heavenly music and she told Valerian that an angel was present who would guard her virginity. The story goes on to say that Valerian saw the angel and was converted. Cecilia went on the make many more converts to Christianity until she was eventually martyred.
From this bit of information in her biography, St Cecilia has become the patron saint of music, especially church music, as well as that of musicians, composers and instrument makers.
Her feast day is on November 22nd.