Saint Andrew - Whose Feast day is the30th November each year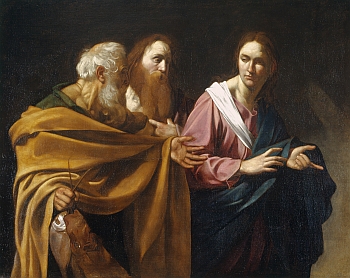 The Calling of Saints Peter and Andrew by Caravaggio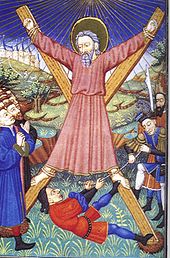 Crucifixion of St. Andrew.
The New Testament states that Andrew was the brother of Simon Peter. Both he and his brother Peter were fishermen by trade, hence the tradition that Jesus called them to be his disciples by saying that he will make them "fishers of men". At the beginning of Jesus' public life, they were said to have occupied the same house at Capernaum. The Gospel of John states that Andrew was a disciple of John the Baptist, whose testimony first led him, and another unnamed disciple of John the Baptist, to follow Jesus. Andrew was thus the first disciple of Christ
Andrew at once recognized Jesus as the Messiah, and introduced him to his brother, Simon Peter. At first the two brothers continued to carry on their fishing trade and family affairs, but later, the Lord called them to stay with Him all the time
In the gospels, Andrew is referred to as being present on some important occasions as one of the disciples more closely attached to Jesus. Andrew told Jesus about the boy with the loaves and fishes (John 6:8), with Philip told Jesus about the Greeks seeking Him, and was present at the Last Supper.
Andrew is said to have been martyred by crucifixion at the city of Patras (Patræ), on the northern coast of the Peloponnese. Early texts, such as the Acts of Andrew describe Andrew as bound, not nailed, to a Latin cross of the kind on which Jesus is said to have been crucified; yet a tradition developed that Andrew had been crucified on a cross of the form called Crux decussata (X-shaped cross, or "saltire"), now commonly known as a "Saint Andrew's Cross" — supposedly at his own request, as he deemed himself unworthy to be crucified on the same type of cross as Jesus had been.
About the middle of the 10th century Andrew became the patron saint of Scotland. Several legends state that the relics of Andrew were brought by divine guidance from Constantinople to the place where the modern town of St Andrews stands today.
Two countries have chosen St. Andrew as their patron - Russia and Scotland.