Charities Supported in 2015
This page records the donations to charities made by our church during 2015. Where formal thank you letters have been received, scanned copies are reproduced below.
MAIN DONATIONS AGREED FOR 2015.
On your behalf, the council agreed at the meeting on the 26th October 2015 to support the giving of €3000 divided equally between the following charities:
Médecins sans Frontières
Church Mission Society (CMS)
International Red Cross
Water Aid
Us (supporting refugees arriving in Europe)
The local refugee support group in Roujan, who will receive the monies once they become a French Association.
It is to be noted that the €3000 is an additional sum over and above the €1700 already raised this year at various services and events. The €1700 was destined for various charities All Saints Hérault supports on a regular basis as well as those deserving causes that arise from time to time. An example of the later is the €500 donated to Saint Margaret's Anglican Episcopal Church in Budapest in support of refugees arriving in Budapest.
For this financial year up to the end of November 2015, €4,212.33 had been disbursed to the relevant charities. The €4,212.33 figure includes the €1700 raised at various services and events during 2015 (YTD).
Harvest Event Monies
This fund-raising event, the brain-child of Roger and Trish Armson, was such a success last year that we decided to do it again in 2015. It was decided that monies from the Harvest event would go to two local charities, the Restos du Coeur and Secours Popular, both in Pézenas. Business was brisk at all the stalls, and the total raised was about €560, which was distributed to the two charities.
Also present was Bobbie with her book stall raising money for Hope for South Africa's Children, as she does at every service. Bobbie will have combined the monies raised at the Harvest event, with other monies she has raised, and passed them over to the charity.
Harvest Event Money for the Restos
Message from Barbara
Part of the monies raised at the Harvest event was originally designated for the Restos Bébé, but another association got there first and provided some help.
As a result we are back to donating to the main Restos, which, as you know gives food to those in need on their books. In fact they are so generous that, apart from food, they know that those on a very limited budget have need for other things such as cleaning materials, toiletries etc.
Claude, who is charge of the Restos in Pézenas, likes to give each family 4 toilet rolls per week, amongst other things, and the distribution centre at Montpellier does not provide these. As a result, I was able to get a trolley load of 160 rolls and several packets of sanitary towels for his clients. Imagine the look on the face of the supermarket cashier! Also the distribution send mainly large tins of vegetables, which are fine for families, but not very convenient for couples or singles, so I was also charged with buying dozens of medium size tins too.
In all we still have about €200 to spend, but at the moment they are taking enrolments for the coming year, and they will know what else is needed by the end of November. It looks as though we will have some more interesting shopping to do soon.
Donations to Other Churches
The council agreed per the minutes of the 26th October 2015 meeting, that a donation of €50 would be made when churches other than the Temple at St. Pargoire were used for ad-hoc services and that €100 per year would be given to Saint-Joseph de Mont-Rouge to thank them for making the chapel available for the monthly prayer group meetings.
In this respect, donations of €50 have been made to the churches at Margon and Puissalicon.
Refugees in Hungary
The Chaplaincy Council members decided to donate funds to support the the refugee crisis in Hungary. The Council agreed to donate €500 via the Diocese in Europe chaplaincy based in Budapest, agreeing that they were in the best position to decide how to use the money.
The church recently received a letter of thanks from Saint Margaret's Anglican Episcopal Church in Budapest.
Click here to read the thank you letter and information on how the parishioners of Saint Margaret are helping Refugees in their locality
Thank You Letters and Emails
Donation to RouJan Group supporting refugees locally
The following email has been received by the church:
Good morning Roger



Good News! Languedoc Solidarity with Refugees is now a fully registered and legal association (#W341007673). We have an account opened at Credit Agricole on Tuesday. Once we got the process underway it actually went a bit faster even than we were promised by the fonctionaire in Beziers. So, if you still have that €500 for us, we will be happy to receive it in whatever form is most convenient for you.



We are about to experience a bit of a bubble in our cash needs as several of the families we have been working with have been called to Paris for their final interviews and we need to help them get there. The food delivery program continues to roll on and we have sent several shipments of clothing and other items to Syria, Paris, Calais, Italy and Dunkirk. We are now exploring how we can most effectively (and sustainably) support families as they move out into the communities once they receive their formal refugee status. Life is full and busy.



Thank you all for your support and for your patience with us as we try to do everything at once.



Gary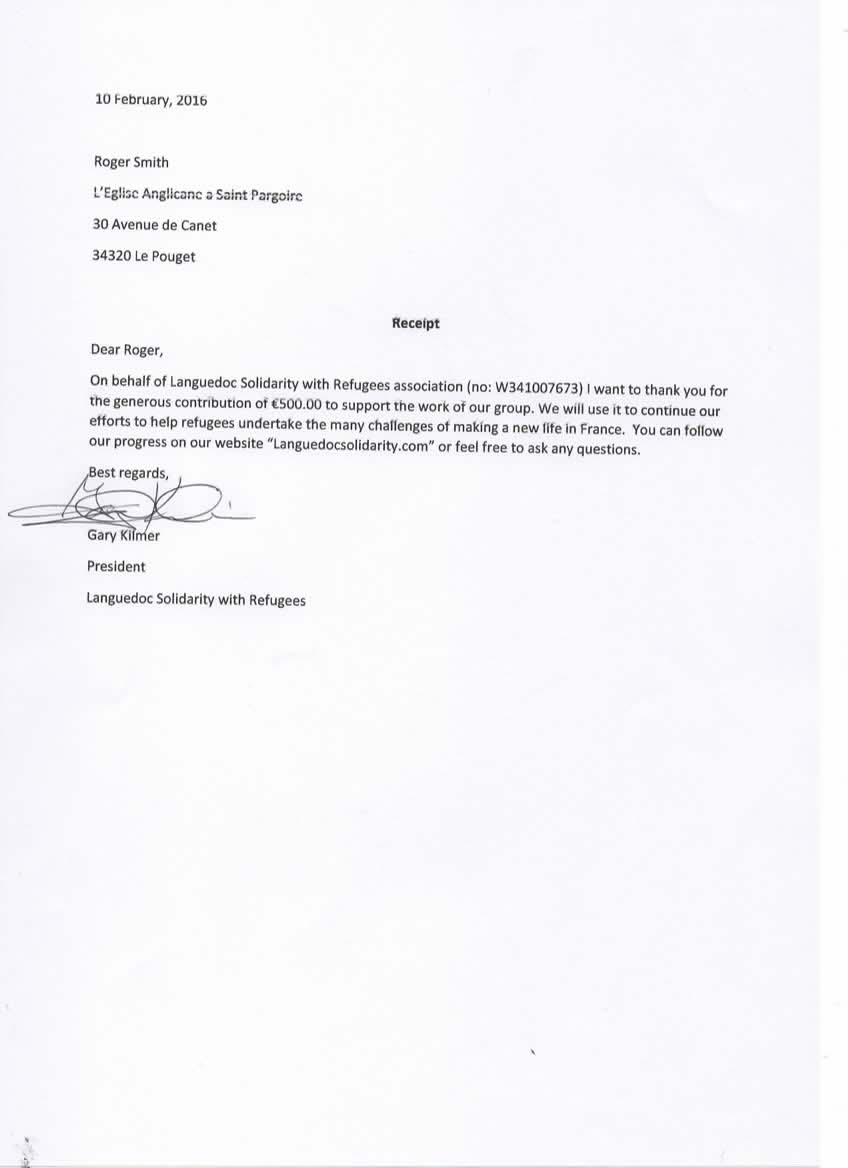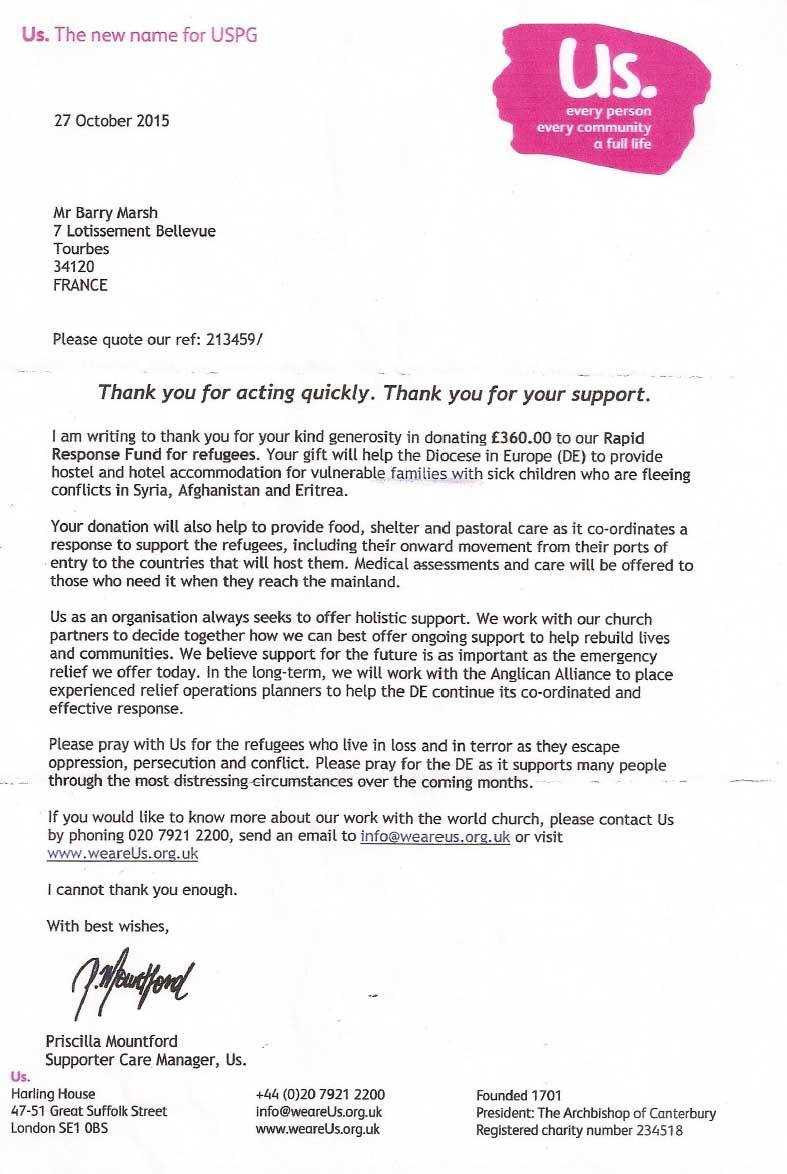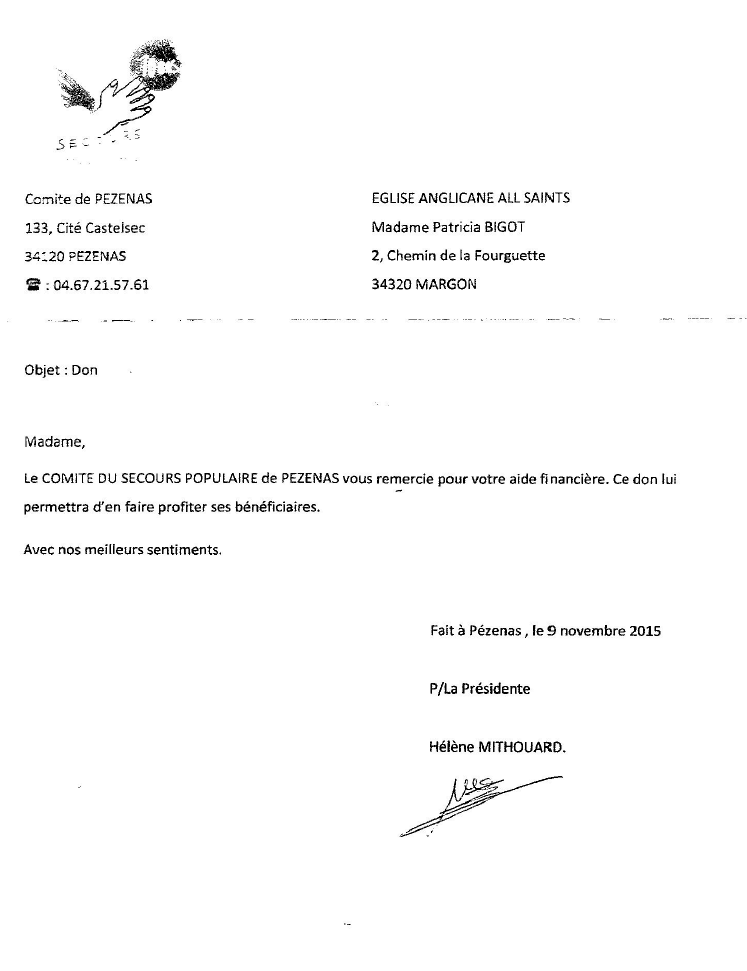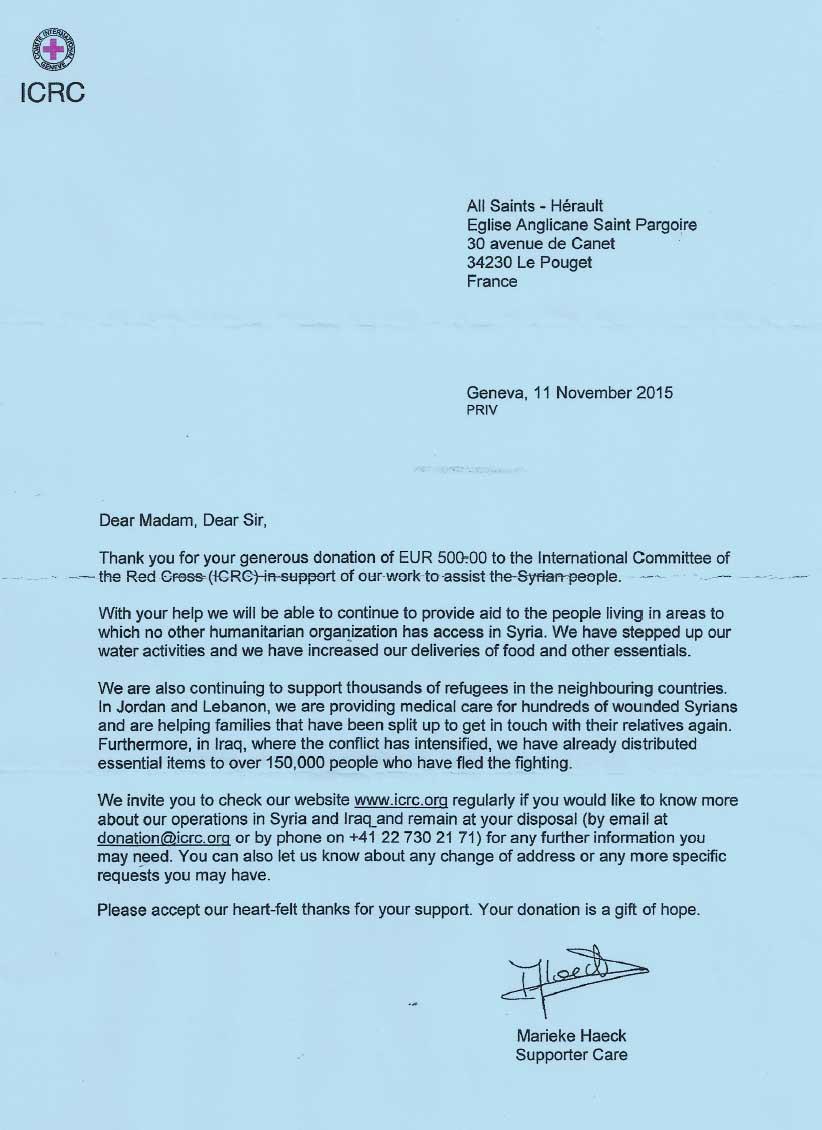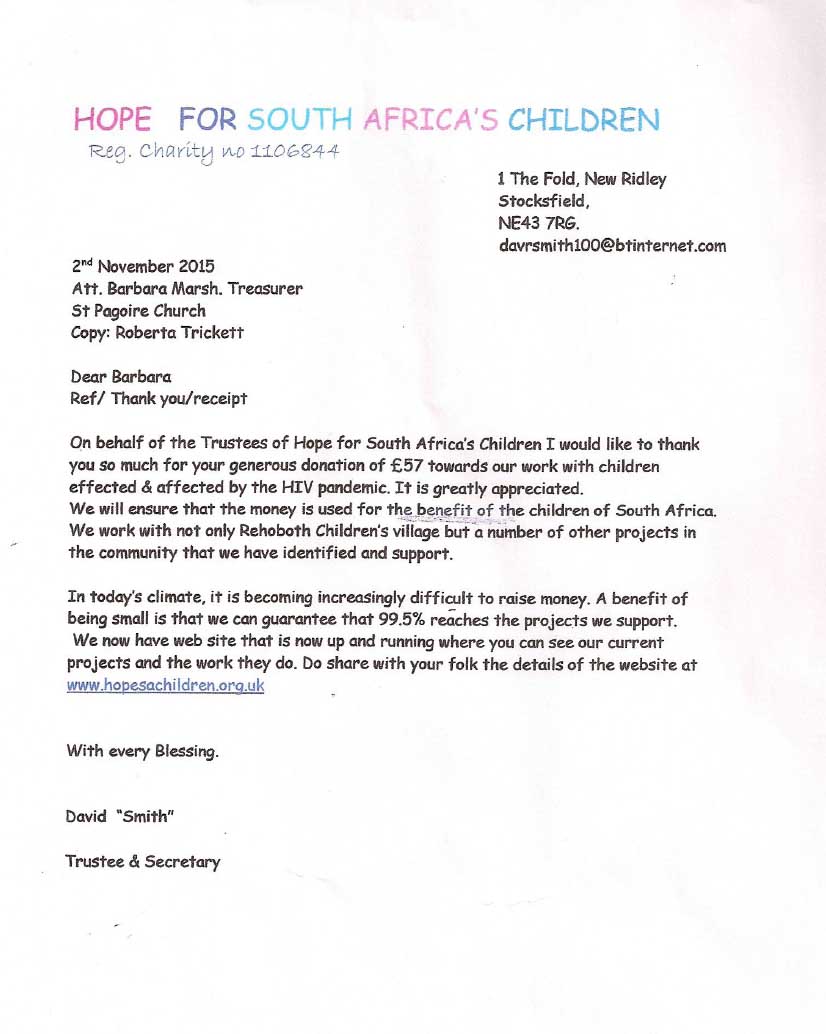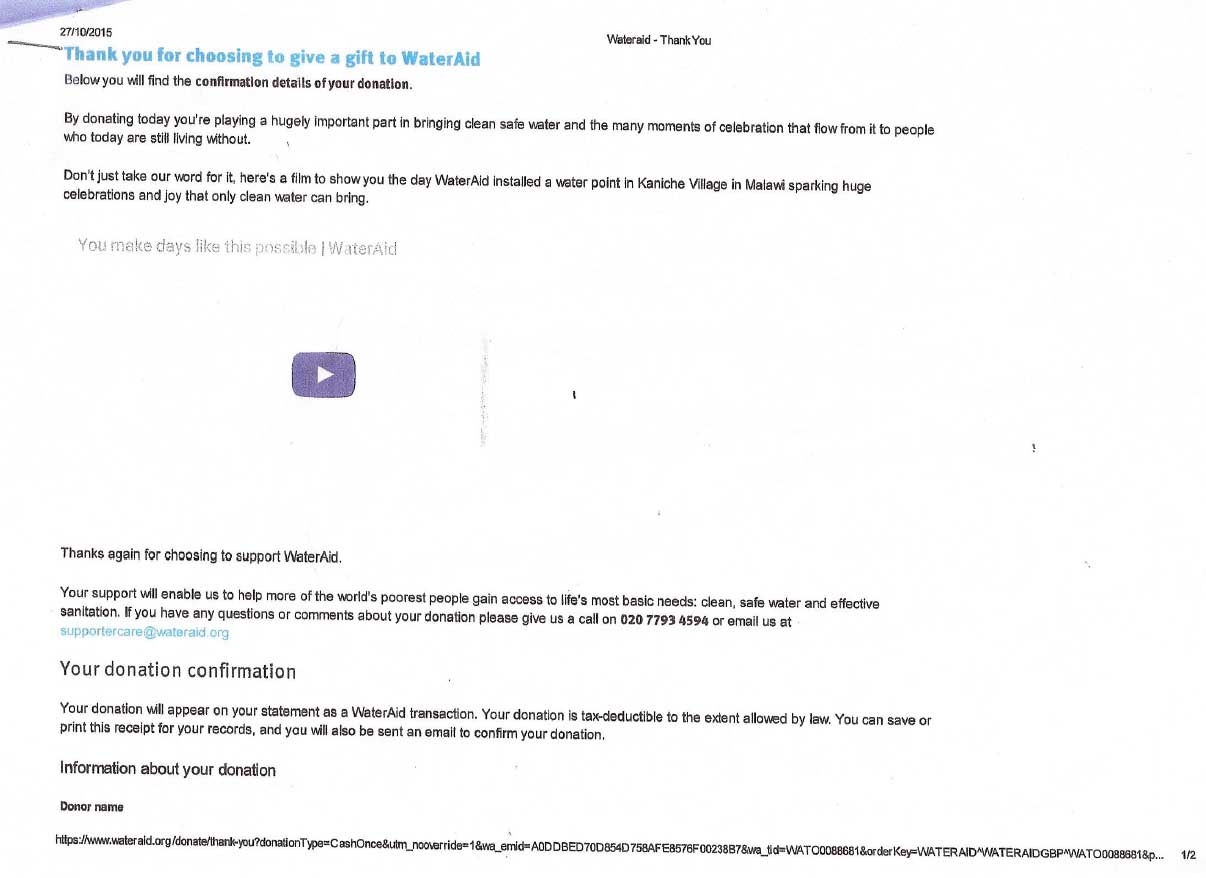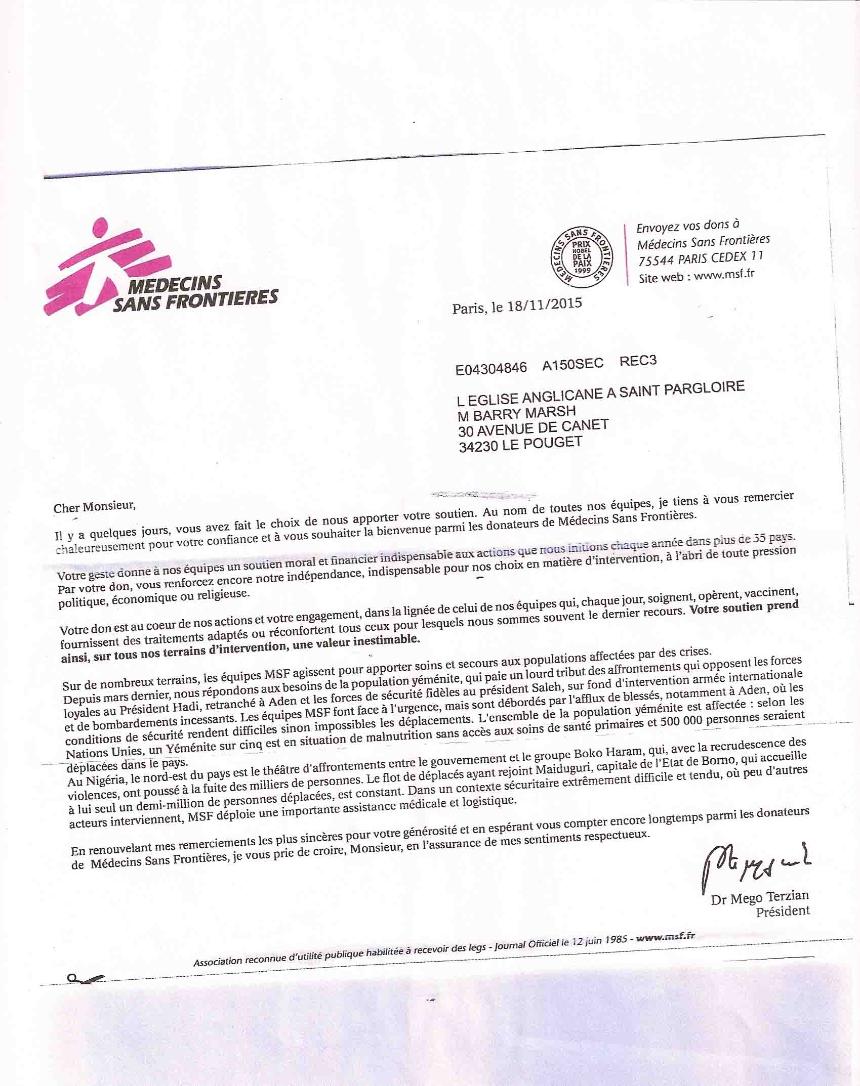 Email from Church Mission Society (CMS)
Thank you for your generous donation of £360 and gift aid of £90 towards the support of Anna. We really do value you prayerful and financial gifts towards our work, it makes such a difference as it allows us to continue sharing Jesus and changing lives all around the world.
As well as your much-needed donation, we really appreciate your prayers and friendship. If you haven't already joined our Facebook page, then you can find it here: https://www.facebook.com/churchmissionsociety. It is a wonderful way for us to tell you about our latest news and interact with you.
Best wishes