We need to play 'full part' in aiding refugees, says Archbishop Welby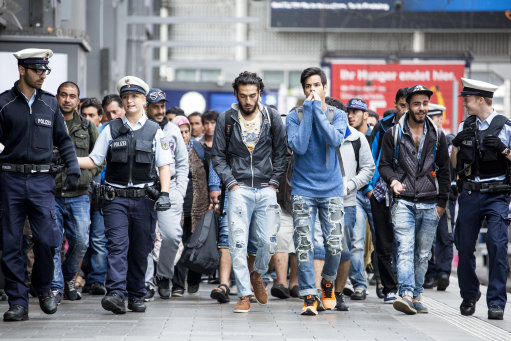 Destination: police accompany refugees, some of whom though to be from Syria, as they arrive in Munich on Thursday, aboard a train from Budapest Keleti station referred to as the "Train of Hope". Many people had been stranded in Hungary for several days CREDIT: DEMOTIX
SHOCK and distress after the publication of photographs of a three-year-old Syrian refugee's dead body washed ashore in Greece have prompted responses from Christian leaders, and the Prime Minister.
The Archbishop of Canterbury said that any attempt to tackle the migration crisis had to begin with "compassion, and the dignity of the human being". Speaking to the BBC on Friday, Archbishop Welby said that much more needed to be done.
"No one can say 'These people aren't our problem.' The number of refugees taken by Turkey, by Egypt, countries far poorer than we are, exceeds two million people. We need to reach out, as we have done historically over the centuries, and do more than we have done.
"Aylan Kurdi, the little boy who we all wept over, his brother . . . watching his father last night talking on the news — those are human beings. There are millions in their position.
"The call is for Europe and for us to play our full part with every inch of moral fibre that we have . . . to tackle this problem."
While acknowledging the hundreds of millions of pounds' worth of aid which Britain had given to Syrian refugees, and the thousands of migrants rescued from the Mediterranean by the Royal Navy, Archbishop Welby said that this did not go far enough. "This is an extraordinary moment, and [it] needs moral leadership."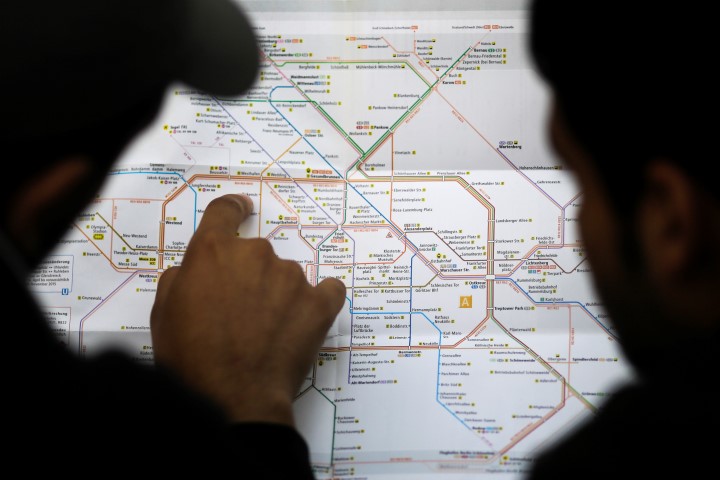 New arrivals: two men from Syria study a map of Berlin's U-Bahn (underground), to find the route to accommodation outside the Berlin reception centre for refugees and asylum-seekers, on Friday CREDIT: AP
Speaking from a summit with the Portuguese Prime Minister in Lisbon, David Cameron announced that the UK would take in more refugees, but only those in camps in the Middle East rather than any who were attempting to reach Europe themselves.
"Britain has a moral responsibility to help refugees as we have done throughout our history. We are already are providing sanctuary, and we will continue to do so," he said. No European country had given more money in aid, and, were it not for that money, many more desperate Syrians would be attempting to make it to Europe, he argued.
"We have already accepted around 5000 Syrians, and have introduced a specific resettlement scheme, alongside those we already have, to help those Syrian refugees particularly at risk. And, given the scale of the crisis and the suffering of the people, today I can announce that we will do more, providing resettlement for thousands more Syrian refugees."
More details of the expanded resettlement scheme, which has so far taken in only a few hundred survivors of Syria's civil war, will be released next week after the Government has consulted aid agencies and other partners.
The RC Archbishop of Westminster, Cardinal Vincent Nichols, has added his voice to those calling on Britain to take in more refugees.
"We are not mean-spirited: on the whole we are a generous people," he said in an interview with ITV News. "That we are letting people die and seeing dead bodies on the beaches when together Europe is such a wealthy place . . . we should be able to fashion a short-term response as well as long-term tackling of these really intricate problems."
He said that the public was beginning to see the human face of the crisis rather than fear waves of foreigners targeting Britain's welfare state. "What is coming through, screaming through, at the moment is the human tragedy of this moment, to which we can be more generous."
But even if Britain accepted as many as 10,000 more refugees, as the Labour leadership contender Yvette Cooper called for earlier this week, it would still amount to only a "fraction" of the overall problem, the Cardinal said.
The chief executive of the Children's Society, Matthew Reed, said that it was right for the Government to increase its efforts to help Middle Eastern refugees.
"There's clearly an urgent need to do so much more to tackle the scale of the humanitarian crisis that is unfolding," he said on Friday. "As the heart-breaking images of recent days show, thousands of children are suffering appallingly as families desperately flee violence and persecution.
"There can be no compromise when it comes to offering sanctuary and support for children escaping war and persecution. We owe it to children to offer them the protection and help to overcome the trauma that is blighting so many young lives."
With thanks to The Church Times - Click here for original article